Wednesday, October 2nd, 2013
Leaders tout system's benefits
Treatment train dedication
By Nancy Allen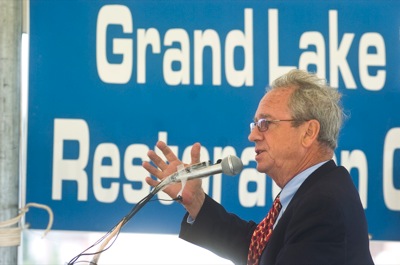 Partnerships and teamwork were emphasized during a Prairie Creek treatment train dedication Tuesday on the south side of Grand Lake.
The first phase of the estimated $2.5 million treatment train was completed earlier this year. More than 1 million gallons of water a day are diverted from Prairie Creek and treated with alum to deactivate phosphorous, the favorite food of the lake's toxic blue-green algae. The water is then funneled through two retention ponds, six man-made wetland cells and an enhanced natural wetland area before it enters the lake.
"Today is a day of celebration of the really great teammates working very hard to restore the lake," Lake Restoration Commission Manager Milt Miller said to an invited crowd of about 40 state and local officials. "Today is about thank-yous, accomplishments and partnerships."
The concept of the project is to create man-made wetlands to replace natural ones lost to development over the years, Miller said. Thousands of acres of natural wetlands formerly surrounded the 13,500-acre lake, especially the south side. Wetlands act like kidneys to filter sediment and nutrients.
Miller noted tests of creek water leaving the treatment train showed average reductions of 75 percent for phosphorous, 65 percent for dissolved reactive phosphorous and 41 percent for nitrogen between July 12 and Sept. 16. Microcystin algae toxin levels dropped from .0039 to .00075 milligrams per liter and from .0048 milligrams per liter to a non-detectible level, according to data distributed at the dedication.
Phosphorous is in manure that runs off farmland. The dissolved form of phosphorous found in commercial fertilizer is most readily available for uptake by algae. Phosphorous and nitrogen feed the lake's blue-green algae, also known as cyanobacteria, but phosphorous plays a bigger role.
This is the fifth consecutive year the state has issued a water advisory for the lake due to unsafe levels of algae toxins. Average monthly algae toxin levels between Memorial Day and Labor Day in 2011, 2012 and 2013 have shown an increase nearly every month.
The algae gives the lake its characteristic green color. Miller said the area of the lake where the treatment train's cleansed water empties is a healthy brown color and an area of lily pads has greatly flourished in the enclosed area of the lake - an indicator of improved water quality.
Ohio EPA Director Scott Nally echoed Miller's teamwork mantra.
"We're on a conference call every other Monday with local officials and state directors (from Ohio Department of Natural Resources and Agriculture)," Nally said.
Dave Daniels, director of the Ohio Department of Agriculture, lauded local farmers for reducing phosphorous runoff into the lake. He said the area's farmers need to remain viable.
Grand Lake Watershed farmers were mandated by the state to get nutrient management plans and follow new manure rules after the state in 2011 designated the watershed distressed because humans and animals were sickened by the toxins. The plans hinge largely on soil tests and tell farmers how much, where and when they can apply manure.
"We want to make sure our farmers are productive and continue to grow and thrive," Daniels said.
ODNR Director Jim Zehringer pledged to continue state help for the lake through dredging, rough fish removal and other activities, but added that there is only a certain amount of dollars available. The Fort Recovery native and former chicken farmer praised farmers.
"Ninety-nine percent of these farmers are following nutrient management plans, and soil tests are the bedrock of these plans," he said. "The agriculture community is stepping up; we're not pointing fingers and we're getting the job done."
Miller said local officials want to build treatment trains on the other five main tributaries of the lake. Local officials learned earlier this year that $2.1 million from ODNR was included in the Ohio budget to build a one on Coldwater Creek at the state wildlife refuge near U.S. 127 and state Route 703.
Funding for the Prairie Creek project has come from ODNR, grants from the Ohio EPA and Ohio Public Works Commission, in-kind services and private donations. The second phase of the Prairie Creek treatment train is expected to start later this fall, said Jared Ebbing, Mercer County community/economic development director.
The public can explore the area from 1 to 5 p.m. Saturday and Sunday. A gravel walking and bicycling path was installed Friday at no cost by VanTilburg Construction of Celina.