Wednesday, October 2nd, 2013
Coldwater's offense erupts in second half
By Gary R. Rasberry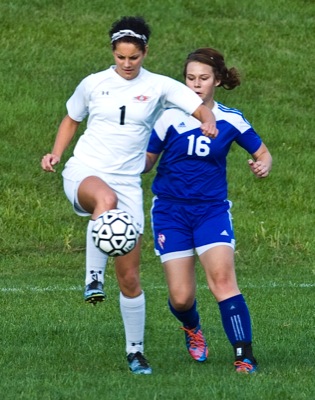 COLDWATER - Sparked by five second-half goals, Coldwater's girls soccer team improved to 4-8 on the season after a 6-0 win over Crestview on Senior Day on Tuesday afternoon at Village Hall Field.
"We felt confident going in," said Cavaliers coach Scott Brinkman. "This being our Senior Game, we wanted to make sure they got to play a lot tonight and I think they did. We wanted to make sure the opportunity didn't slip by."
The Cavaliers had plenty of scoring chances, taking 34 shots on goal. In the first half, Coldwater had 15 shots against Knights keeper Alyssa Walter, but the only one that found the back of the net came with 18:14 on the clock when Leslie Stelzer lofted one over the head of the keeper for a 1-0 Coldwater lead.
In the second half, the Cavaliers' offense cranked up the scoring chances and were finding the mark, scoring five times in a 25-minute span. Kaitlyn Schmit put Coldwater on top 2-0 off a Rachel Luthman assist at the 26:36 mark. Six minutes later, Jenna Black hit a perfect corner kick that Lexi Depweg knocked into the goal with 20:10 remaining in the game.
Ashley Backs made it 4-0 for the Cavs with an unassisted goal at the 14:43 mark. Five and a half minutes later, Anna Kahlig made it 5-0 with an unassisted goal before Abby Schritz scored the final goal with 90 seconds remaining in the game.
"We talked at halftime about getting shots on goal," said Brinkman. "The first half, we did that. In the second half, we not only got shots on goal, but quality shots on goal. We got some deflections and ricochets but they all count the same."
Coldwater's defense stayed strong and did not give the Knights many chances, as Crestview had just one shot on goal. The best chance for Crestview to get a consolation goal came in the final minutes on a breakaway but Cavaliers keeper Alanna Severt deftly slid and took the ball away on a touch pass.
"Our back four were great. Jenna Black (and) Morgan Grunden in the middle and Paige (Siefring) and Brittany Gillis on the outside really made it easier for everybody," said Brinkman. "Those four in the back made it possible to attack the whole game."
Coldwater returns to action on Thursday, traveling to Allen County to face Shawnee.