Friday, October 11th, 2013
Ex-teacher gets 20 years in prison
By Margie Wuebker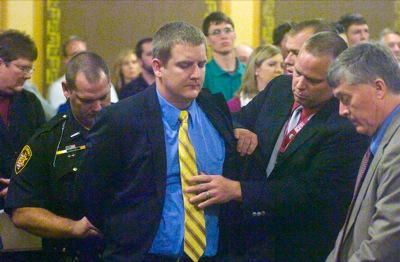 CELINA - Christopher Summers made an emotional plea in Mercer County Common Pleas Court Thursday afternoon, apologizing to the former student with whom he had a 28-month relationship and requesting probation so he could spend time with his family.
Judge Jeffrey Ingraham listened to Summers' rambling discourse and then sentenced the former Fort Recovery High School accounting teacher and girls basketball coach to 20 years in prison on eight counts of sexual battery.
The sentence, as well as classification as a Tier III sex offender, came with a powerful message - someone in a position of trust in the community cannot defy that trust by having sex with a student.
Summers, a 33-year-old St. Henry resident, took full responsibility for his actions.
"I made a huge mistake, an awful mistake, a mistake I don't know if I will ever be able to forgive myself. I was in a position of trust and what I did was wrong. She was my student and as an adult I should have said no."
Summers blamed his actions on depression and marital problems. The result has been the loss of family, friends, a teaching license, his standing in the community and $120,000 in legal fees.
"I'm not the monster they made me out to be," he added. "I was in a really bad place. The blame is completely and absolutely on me."
Several supporters came forward to speak on his behalf.
Former student and basketball player Holly Brunswick stated Summers never treated her with anything but respect.
"He genuinely wanted to help people and it led to his downfall," she said.
Brunswick commented that the victim never seemed afraid, uncomfortable or emotionally distressed during the time of the relationship.
Summers' family friend Ashley Ontrop charged the victim came up with a story about rape to cover up having a relationship with a married man.
Laurie Summers asked the judge for probation so she and her husband could raise their two children - a 5-year-old daughter and a 3-year-old son.
"I have given Chris a second chance," she said. "I hope you will give Chris a second chance."
The victim, now a college student, addressed the court in a quiet voice prior to sentencing.
"I will be forever changed by what Mr. Summers did to me," she said. "He forced me to lie to the ones I love most. He made me feel like a worthless piece of meat and took my innocence." Her testimony during an August jury trial revealed numerous sexual encounters with Summers, including allegations of rape, thousands of phone calls and text messages at all times of the day and night and threats regarding the well-being of her family members. She also said Summers took a knife and carved the letter "C" on the inside of her right ankle after learning she was dating someone else.
Following her testimony, Summers accepted a plea bargain and admitted his guilt to the eight charges, bringing the trial to an abrupt end. The negotiated arrangement resulted in the dismissal of the remaining 39 counts in his indictment, including rape and felonious assault.
The victim's parents also spoke Thursday prior to sentencing, asking that the defendant receive a maximum 40-year sentence.
"Some day Chris Summers will have to answer to the man upstairs for what he has done," the father said. "I know that I am not allowed to deal with Mr. Summers on my own. I am forced to let the court system punish him."
His wife likened the former teacher to Arial Castro, a Cleveland man who sexually abused three woman during years of captivity.
"I can't help but think that Chris Summers is a more dangerous man than Castro was," she said. "Castro had to keep his victims locked within his reach to abuse them. Mr. Summers was manipulative enough to mentally keep his hold on (the victim) even though he let her out of his sight."
The victim's older sister - a high school math teacher - spoke of mandatory child abuse training each Ohio educator must undergo.
"He violated not only the law but also the sacred trust given to us as teachers: to protect and teach innocent children. Instead Chris Summers used his position of authority to manipulate, threaten and sexually assault an innocent student entrusted to his care," she said.
Mercer County Prosecutor Matt Fox labeled the defendant a liar and a master manipulator.
"The manipulation and control continues even today with his presentation and through his surrogates and puppets."
The prosecutor, who noted the case would never have come this far without the courage of the victim and her mother, asked for a significant sentence not only to protect the community and punish the offender but also to deter similar offenses in the future.
"Mr. Summers told us words are wind and words are meaningless," he added. "A significant sentence is not."
Fox concluded by reading the final text Summers sent to the victim in November 2012 before she told her mother about the relationship and they went to the Mercer County Sheriff's Office.
It stated, "Last straw...last straw forever. If it takes all my life, I will ruin you."
Summers was led from the crowded courtroom in handcuffs and booked into the Mercer County Detention Center. He faces another sentencing today before Darke County Common Pleas Court Judge Jonathan P. Hein on a single count of sexual battery involving the same victim at a Greenville motel.