Friday, October 18th, 2013
St. Marys rallies past Wapak, Bulldogs blow out Cougars with a nine-goal showing
Division II Girls Soccer at Celina
By Gary R. Rasberry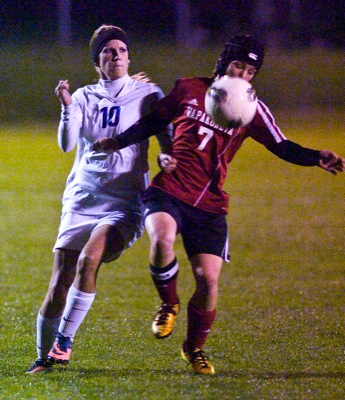 CELINA - Just when things were starting to look bleak for St. Marys' girls soccer team, momentum changed in a hurry.
Facing a 2-0 deficit early in the second half, the Roughriders scored four times within a span of 9 1/2 minutes to rally and beat Wapakoneta 4-2 to claim a Division II girls sectional title on Thursday night at Celina Soccer Stadium.
The top-seeded Celina Bulldogs had much less trouble in their opening match, defeating Van Wert 9-0.
Both teams head to Elida next Tuesday for district play. St. Marys takes on Bath in the first match at 5 p.m. with Celina facing Shawnee in the nightcap. The district final will be Oct. 26 at 2 p.m.
St. Marys 4, Wapakoneta 2
Despite trailing 1-0 at halftime, thanks to a Olivia Cousino header off a Kyle Dahman corner kick midway through the first half, St. Marys was confident that the equalizer would be available at the start of the second half. Wapakoneta quickly made things more interesting when Sara Warner put a rebound into the back of the net just 24 seconds into the second half to put the Redskins on top 2-0.
"I just told the girls we've come back from these deficits before," said senior forward Kristen Dammeyer. "One goal is all that can change it."
"I thought for sure it would take the wind out of our sails," said St. Marys coach Paul Dingledine. "The girls never, ever gave up. Then we got into our game plan of diagonal passes and spreading the field. Things worked out great."
With 22 1/2 minutes to play in the match, the Roughriders found their spark. Bela Godhino lofted a kick from 30 yards out that sailed over Wapakoneta's keeper Mikayla Halfhill to give St. Marys a goal. Five and a half minutes later, a battle for the ball ensued in front of the Redskins' goal with Kami Menchhofer getting a clean shot for a goal that tied the score at 2-2.
"That was definitely a pick-me-up for us," said Dingledine of Godhino's goal. "Right after that, Kami came in, covered the backside, picked up a loose ball and put it in."
Then Dammeyer caught fire. With the clock under 16 minutes remaining in the match, Dammeyer broke free and scored the go-ahead goal. Two minutes later, Dammeyer got open again and scored an insurance goal with 13:46 on the clock to put the Roughriders on top 4-2.
"Once you get that energy going, it's a roller-coaster," said Dammeyer. "Once we got that goal (from Godhino), we were on a high."
"She's just a hard worker," said Dingledine of Dammeyer. "I was glad to see them all score, especially for Kristen."
From there, the Roughriders' defense was stingy down the stretch, preventing the Redskins from any other scoring opportunities before the final whistle blew.
"We're hoping the momentum carries us into our next game," said Dingledine. "It's going to be Bath next Tuesday (St. Marys won the regular season meeting 2-1). If we can play like we did in the second half of the game, it will be a good game."
Celina 9, Van Wert 0
The Bulldogs jumped out quickly and put the game in hand by the midway point of the opening half. Bekah Carr and Caelyn Reineke alternated the first five goals for Celina, with Carr assisting on Reineke's scores to finish with a three-goal, two-assist performance.
Alyssa Cisco finally broke the Carr/Reineke monopoly on goals with an unassisted score with 4:42 on the clock in the first half.
Cisco became the third Celina multi-goal scorer after putting another one into the back of the net 3 1/2 minutes into the second half. Alyssa Sheriff, who assisted on Cisco's second goal, got a goal of her own with 33:46 left in the match. Kendall Gilmore added the final goal with 12:05 remaining off a Maddy Ross pass.
The Bulldogs dominated the stats, outshooting Van Wert 15-2. Celina keeper Callie Vogel made saves on both of the Cougars' shots and the Bulldogs held a 13-2 advantage in corner kicks.
"First one in, always good to get under you belt," said Celina coach Cal Freeman. "Girls played well. No complaints. Got through it without any injuries, which is always a big key in tournament because staying healthy is the key.
"Pleased how it went. Pleased with the defense. Thought we clicked well on offense. Gave several girls looks at goals that we normally don't do. Just pleased with the overall game."