Saturday, October 26th, 2013
One killed in rollover truck accident
By Amy Kronenberger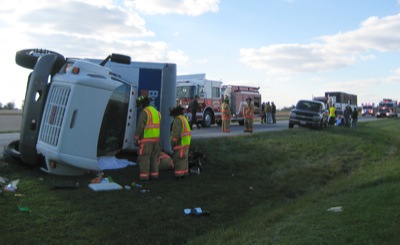 A 52-year-old man from out of state was killed Friday afternoon in a one-vehicle accident on U.S. 33, east of Celina-Mendon Road.
For an unknown reason, a 2007 GMC Budget rental box truck traveling westbound went off the north side of the two-lane road, according to a press release from Mercer County Sheriff's Office. The driver overcorrected, brought the truck back onto the road and overcorrected again, causing the truck to overturn. The driver was ejected from the truck and became pinned under it. He was pronounced dead at the scene by Mercer County Coroner Dr. Timothy Heinrichs.
A male juvenile passenger was also inside the truck and was transported to Joint Township District Memorial Hospital by Celina EMS with non-life-threatening injuries, according to the report.
Mercer County Sheriff's deputies and emergency responders from Mendon and Celina fire departments responded to the call at 4:03 p.m. The accident is under investigation. As of press time, the victim's name had not been released pending notification to the family. No other injuries were reported.
The accident marks the fourth traffic fatality this year in Mercer County.