Wednesday, October 30th, 2013
Bulldogs' defense shines in win over Maumee
Division II Girls Soccer Regional Semifinals at Findlay
By Gary R. Rasberry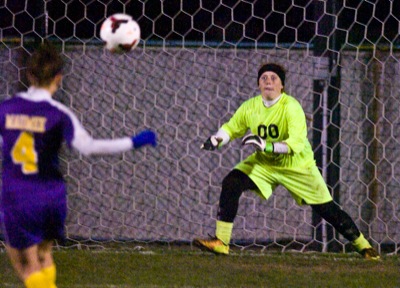 FINDLAY - In a game where the defense needed to be stout, the Celina girls soccer team came up with their best effort of the season.
The Bulldogs and Maumee Panthers played scoreless soccer for 80 minutes of regulation and 30 minutes of overtime before deciding their Division II regional semifinal on penalty kicks.
Heather Heiby's kick on the fifth shot of the first round went top shelf, while the Panthers' attempt to force another session sailed over the bar, giving the Bulldogs the 1-0 win by a 4-3 margin on kicks. Celina (14-2-4) advance to their first-ever regional championship game on Saturday at 3 p.m. in Ashland, where the Bulldogs will face the top-ranked team in Division II in Rocky River, which beat Ontario 7-0 in Sandusky.
"I'm so proud of my team right now," said Celina coach Calvin Freeman. "We played awesome all over the field, but our defense, they put it all out on the field. The girls are exhausted at the end of play. They just played super.
"That's a great team (Maumee). They can't go out of here feeling bad, other than someone had to lose. They have a great team. Good outstanding players on that team."
Both teams are prolific scorers, with Maumee (13-6-4) scoring 103 goals coming in and Celina tallying 85, but the defenses for both teams ratcheted things up from the opening whistle. The Panthers put pressure on Celina speedsters Bekah Carr - who sometimes had three defenders around her as she tried to break free down the pitch - and Caelyn Reineke. Celina countered by keeping close tabs on Maddy Woolford, who entered the game with 24 goals and 18 assists on the season.
"Coming into the game, we didn't have any details on how they played or who their best players were," said Celina sophomore keeper Callie Vogel. "We learned easy and learned quickly."
While the Bulldogs had trouble getting decent looks at the goal, attempting just eight shots in the 110 minutes of play, Maumee put plenty of pressure on the Bulldogs and Vogel, getting 14 shots on goal. Those shots that didn't go wide, high or were deflected by defenders were picked up by Vogel, who had nine saves on the night.
"I think the thing I liked the best is we didn't give them any easy looks at the goal," said Freeman. "The shots they took, they had to work for and had to hurry the shot because we were right on them. That was good and made the difference in them missing."
"My defense played tough," said Maumee coach Holly Hamilton. "We had a couple of breakdowns that we were very nervous about. Their defense played very well. I think all of the second half they had an extra man covering Maddy. She knew about and we tried to switch it up as much as we can. ... We had a couple of opportunities that didn't fall."
With 22 1/2 minutes to go in the second half, Carr tried a header that was the best shot at breaking the scoreless tie, but the shot went wide for the goal kick. With four minutes left in regulation, Woolford broke free and had a good shot at the net, but went wide.
In the second overtime, Woolford again looked to put the game away, but Vogel made the save.
Celina got the first chance to shoot in penalty kicks, which alternates between the teams for five shots each. Olivia Powell stepped up first and put the ball in the upper right corner of the net past Panther keeper Jacq Korsog. Maddy Woolford followed and put it lower right past Vogel to make it 1-1.
Holly Brackman made it 2-for-2 for Celina, matching Powell's location. Emma Tullis quickly tied it for Maumee, putting it lower left corner.
Kari Donovan, who had three goals via penalty kick coming in, tried for the upper left corner, but Korsog snagged it. Vogel, though, made the miss moot, stopping Oliva Dameron's near center kick to make it 2-2 through three turns.
Alyssa Cisco scored for Celina, while Claudia Woolford matched it in the fourth pass. Heather Heiby stepped in and for the fifth shot, putting upper right to make it 4-3.
"I just imagined it going in and kept my head down all the time," said Heiby. "I just kicked it. We practice them every day."
All that was keeping Celina from a full-blown celebration was Brynn Sautter's try. A successful goal would the match into another round of PKs. Sautter's shot was high to the left, but sailed over the cross bar harmlessly, sending the Bulldogs into a frenzy.
"It was definitely nerve-wracking, but we had confidence going in with us getting the first kick in," said Vogel. "That built a lot of confidence. The fourth kick (of Maumee) came in and I knew I had to come back with a stop and she ended up kicking it over. ... I was so happy, I wanted to celebrate with my team."