Thursday, October 31st, 2013
Cavaliers one step from state berth
Division III Regional Volleyball at Millbury
By Gary R. Rasberry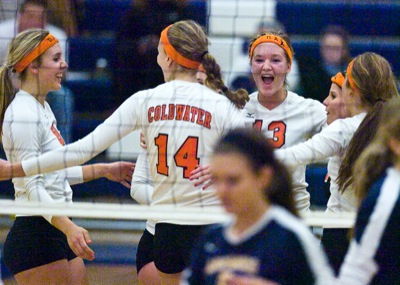 MILLBURY - Shrugging off a slow start and a determined Archbold squad, Coldwater's volleyball team advanced to the Division III regional championship match after rolling to a three-set sweep - 26-24, 25-19 and 25-15 - over the Blue Streaks in the semifinals on Wednesday at Flyer Fieldhouse at Lake High School.
The Cavaliers (24-3), ranked seventh in the final coaches' state poll, takes on sixth-ranked Upper Sandusky on Saturday at 2 p.m. for a berth to the state final four at the Nutter Center in Fairborn. The Rams (24-2) dispatched Marion Pleasant (13-14) in three sets in the other semifinal match.
"It's just one step closer to our dreams coming true," said senior Erika Hartings.
The Blue Streaks (14-12) came out poised to avenge last year's loss to the Cavaliers in the regional semifinals as Archbold jumped out to a 7-4 lead early on kills from Cassidy Williams and Becca Gerig.
Kim Hosbach turned the tide for Coldwater with a quick-set for the kill to give Lindsey Kahlig the serve. Kahlig served five straight points thanks to a pair of Denise Schwieterman kills along with a block and kill from Hartings to put the Cavaliers up 10-7.
The two teams traded the lead back and forth with Coldwater getting set point at 24-23, only to have Cayla Walker tie the score with a kill. Hartings then blasted a kill to put the Cavaliers back up 25-24 before Macy Reigelsperger's block gave the Cavaliers a 26-24 win.
"We just couldn't get going," said Coldwater coach Mike Etzler. "We kind of looked really nervous out there and (Archbold) played great defense and kept the ball in play. We were out of system a lot in the match. I was glad we pulled away because that helped the momentum in games two and three. It would have been a different story if they had won that first game."
The Cavaliers' momentum rolled through the second set. Although the set was tied at 2-2 early, Kahlig came up with a four-point service run that gave Coldwater a 10-4 advantage and forced a Blue Streaks timeout. Three points was as close as Archbold could get from that point on as Hartings served up an ace to close out the set.
"We did a nice job blocking. We we played better defensively and made some adjustments," said Etzler. "Offensively, we made some adjustments as well to help us win games two and three."
The third set was all Coldwater, as the Cavaliers took advantage of some Archbold hitting errors to start strong and pull away. Reigelsperger had four kills and a block in the final set and a Blue Streaks hitting error closed out the match.
"One step closer," said Etzler. "We're happy to be here. This was our goal all year to get back here and get the chance to play for state. That's what we're doing."
Now the Cavaliers face Upper Sandusky, which held Marion Pleasant to 15, 13 and 15 points in their semifinal matchup.
"They have three great attackers. Big girls," said Etzler, referring to Molly Owens, Taylor Graboski and Jessi Holly, all standing 6-2. "They look like a Division II college team. They weren't really challenged tonight, so it was kind of hard to scout but they're a great team. It will be a battle."
TICKET INFO - Coldwater will sell tickets for Saturday's regional final at Lake High School until 5:30 p.m. today and from 8 a.m. to 3:30 p.m. on Friday in the high school office.
Tickets are $6 presale and $8 at the gate. Coldwater gets a portion of the presale.