Friday, November 1st, 2013
Love of pizza leads area man on path to meet pope
By Amy Kronenberger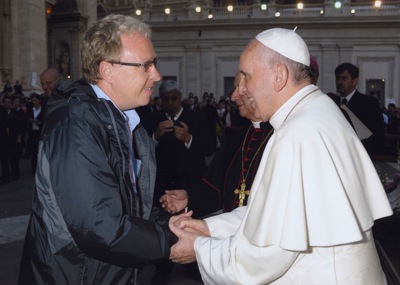 Kent Miller never imagined a shared pizza with a friend would lead to a once-in-a-lifetime encounter with the pope.
The New Knoxville man was one of few people selected recently to have a one-on-one meeting with Pope Francis at the Vatican. Miller had joined the Rev. Barry Stechschulte, pastor of Holy Rosary Catholic Church, St. Marys, and 20 others on a pilgrimage to Rome Oct. 8-16.
He was chosen to meet the pontiff partly because among a sea of Catholics, he is Lutheran.
Miller developed a friendship with Stechschulte through his work as a funeral director in St. Marys.
"I work with Fr. Barry a lot, and we struck up a friendship because we both like pizza," Miller said. "About a year and a half ago we were talking over pizza, and he said he was planning the trip."
"I mentioned the trip and his eyes perked up," Stechschulte said. "So I said, 'you should come with me, and we can try some real pizza.'"
Miller agreed, wanting to see Rome and try authentic Italian pizza.
Stechschulte said the journey was planned specifically as a pilgrimage to St. Peter's Basilica and tomb. The group never anticipated how close they would get to the pope. The priest noted that Miller didn't know what to expect from the trip and was "blown away."
"I've been to Rome seven times and never had this happen," Stechschulte said.
A special prayer service to honor the Virgin Mary was planned during the weekend of Oct. 12 and a priest Stechschulte knows through a mutual acquaintance told him the pope would personally meet 30 people from the various pilgrim groups in attendance. Stechschulte was allowed to select one person from his group.
He couldn't choose himself and he didn't want to split couples in his group. Two of his sisters were on the trip but he said he couldn't choose one over the other.
"I was looking at my group of all Catholics and he was Lutheran," he said of Miller. "He was sitting there, not really sure what to do on the trip. He stood out to me as the person who should be chosen."
Miller couldn't believe anyone from the group would have the opportunity to meet the pope and was even more amazed when Stechschulte chose him.
"I was really humbled by it; I thought maybe it should have been someone else," he said. "I'm Lutheran, and I said maybe I shouldn't be the one to do this. But Fr. Barry said he believed it was meant to be."
When the gravity of what he was about to do hit him, Miller said his mind started reeling.
"I had 24 hours to figure out what I was going to say to the pope," he said.
Miller listened to what people before him in line were saying and decided he needed to be himself and say what was in his heart. As he reached for the pope's hand in greeting, his four years of college Latin came back to him and he said, "salve magister," which means "hello teacher."
"He smiled; he got a kick out of that, and he said hello," Miller recalled. "He had a very disarming charm about him that made you feel at ease. He seemed like a normal guy."
The Vatican was breathtakingly beautiful and lavish, Miller said, adding tourists fill St. Peter's Square every day, screaming and pushing and treating the pope like a rock star.
"When you're surrounded by all that and you're the leader of a billion people around the world, it would be easy for that to go to his head," Miller said. "But he wasn't like that one bit."
Miller told the pope, "I travelled 5,000 miles to see you, and I'm not even Catholic," and the pope laughed. Miller also told the pontiff that he admires his message, not only to Catholics, but to everyone.
He told the pope he follows him on Twitter, and the pontiff laughed again. Miller then asked Pope Francis to pray for Christian unity with all joining in one faith. Miller said the pope replied, "of course," thanked him for the meeting and gave him a rosary.
"It was surreal," Miller said. "I kept asking myself 'what am I doing here?'"
Stechschulte and the rest of his group watched Miller's meeting on a big-screen television.
"We were all cheering for him," the priest said.
Miller said his experience changed his perception of the Vatican and the papacy.
"I think there's a lot of misconceptions about the papacy and what it stands for," he said. "But being with the pope that short amount of time, you get a sense of how it's just normal people trying to do good in the world and fight evil."
Miller said going to the Vatican put a "very human face" on the Catholic Church.
"People get a sense of over-abundance, but it's just not the case," he noted.
Meeting and getting to know his traveling companions also were a special experience, Miller said.
"That to me was just as important as meeting the pope," he said. "I just feel very blessed by the whole experience. It's something I'll never, ever forget."