Friday, November 1st, 2013
Bulldogs swept by Fighting Irish
Division II Volleyball Regional at Ontario
By Ryan Hines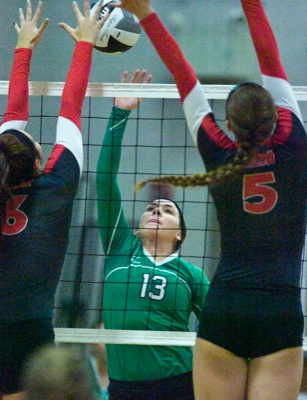 ONTARIO - The dominant postseason run by Toledo Central Catholic's volleyball team continued on Thursday night at Ontario High School and Celina was the Fighting Irish's latest victim.
The Fighting Irish swept the Bulldogs - 25-16, 25-16 and 25-20 - during Division II regional semifinal action and Toledo Central Catholic has yet to lose a set in four postseason matches.
The three-set sweep adds to Celina's historic misery at Ontario, where the Bulldogs are 1-7 in seven regional appearances since 2006.
"It seems to be a hurdle that we just can't get past," said Celina head coach Amy Sutter. "I don't think it's something that gets in our heads. The fact is that there is some really good competition here year in and year out."
Senior Michaela Wenning has been a part of three Celina teams that have reached the regional, having lost all three times in three-set sweeps.
"We have one of the strongest regions in the state every year we come here. We don't think about the past and just try to do our best. It just hasn't been enough," said Wenning.
TCC (17-9) advances to Saturday's regional final to face D-II's top-ranked Parma Padua Franciscan (25-1), which defeated Mansfield Madison 25-15, 25-14 and 25-18 during Thursday's nightcap. The Fighting Irish will be looking for their first regional championship since 2007.
Celina (17-10) had no answer for TCC's balanced offensive attack as the Fighting Irish held a 44-18 advantage in kills. Kristin Murrell led TCC with 16 kills and Megan Koralewski added 11 while Molly Hartlage and Sierra Sedlak added eight and six, respectively.
"They have a lot of big hitters and I think that's what got us. They found our weak spots and they hit the lines hard all night long," said Celina senior Emily Dorsten.
"They hit the ball with success at extreme angles to hit the lines and they were really smart to avoid hitting our block," said Sutter. "We didn't get a whole lot of blocks, maybe five the entire match, because they did a good job of mixing their offense and avoiding our blocks."
After a pair of unforced errors gave Celina a 2-1 lead in the opening set, TCC's big hitters fought back. Murrell had three kills and Sedlak added two more to spark a 5-1 run that gave the Fighting Irish a 6-3 lead.
A pair of Wenning kills helped pull Celina to within a point at 6-5 but TCC's Koralewski had four quick kills to help give the Fighting Irish a 10-6 lead.
"They have strong hitters all over the place and it made it tough to key in on one or two of them to try and block," said Wenning.
The Bulldogs battled to within three points two times over the remainder of the opening set but the Fighting Irish's balanced offensive attack never backed down. Murrell and Koralewski combined for 11 kills to lead TCC to a nine-point win in the opening set.
Wenning had two kills and a stuff block to help give Celina a strong start to the second set and a Beth Goettemoeller kill put the Bulldogs in front 7-6. However, TCC responded with a 9-1 run to take control of the set. Hartlage was the primary weapon during TCC's game-changing run as the sophomore blasted five kills.
"Our defense did a good job of passing the ball to our setter (Maty Lehman) and then she did a good job of putting the ball in a good position for our hitters. Then our hitters just continued to put the ball away," said TCC head coach Jenn Bronikowski.
The Bulldogs never clawed closer than six points the rest of the second set.
Although TCC never trailed in the third set, it was the most competitive of the three sets. A pair of aces and two Murrell kills helped the Fighting Irish build a 9-2 lead.
As unforced errors began to pile up for TCC, Celina methodically chipped away at its deficit. Trailing 18-14, kills by Celina's Madison Weininger and Goettemoeller helped spark a 5-1 run that tied the score at 19-19 and forced TCC to use their first timeout of the match.
The rest of the third set was all Fighting Irish as Celina committed three hitting errors before Koralewski ended the match with a kill to cap a 6-1 run.
TCC's aggressive serving and relentless defense made it tough for Celina to run a consistent offense. Wenning and Dorsten led Celina with five kills apiece but the team's overall hitting percentage was just .083.
"Celina is an excellent team and we knew that we had to keep their offense in check by getting some touches on the ball," said Bronikowski. "Our blockers' job wasn't necessarily to have stuff blocks but just get enough touches to make it easier for our defense to set up our offense."
"They (TCC) were good. They kept us on our heels. Our passing was sporadic tonight and it made it tough to run our offense and get the ball to Mickey (Wenning) and Beth (Goettemoeller)," said Sutter. "When we had good passes I thought we were able to play with them but when the passing wasn't there we were scrambling all over the place. They did a good job of keeping us out of system."
Despite the disappointing loss to end the season, Wenning was proud of what the Bulldogs were able to accomplish this year.
"We had some people doubting us early in the season when we were struggling but we went on to win the WBL (Western Buckeye League) and we won sectional and district titles. It would have been nice to win here but we still had a great season and have a lot to be proud of," said Wenning.