Saturday, November 2nd, 2013
It's not a record crop, but most farmers reportedly pleased with this year's yields
By Nancy Allen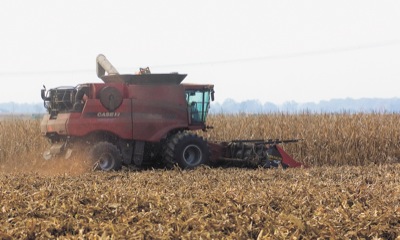 A promising growing season was stunted by dry weather and area farmers are reporting an excellent corn crop and average to below average soybean crop this year, according to ag leaders.
The year began as one of the best in decades with farmers marveling at the height of their corn stands. But lack of rain in August and September stunted yields, particularly for soybeans, ag officials said.
"Everyone had their hopes up," said Anita Green, executive director of the Auglaize County Farm Service Agency. "So there was some disappointment."
Mercer County corn yields range from 120 to 220 bushels per acre, while soybean yields range 35 to 60 bushels per acre, said Chris Gibbs, executive director of the Mercer County FSA. In Auglaize County, corn yields have been reported between 160 and 230 bushels per acre and soybeans between 35 and 65, according to Green. The typical average yield for both counties is about 175 bushels per acre for corn and 50 for soybeans, USDA statistics show.
About 75 percent of the corn and 95 percent of the soybeans have been harvested in both counties, ag officials said. Harvest is on schedule for Mercer County and a little behind in Auglaize County.
Green rated Auglaize County's corn excellent and soybeans average. Gibbs rated the county's corn excellent and soybeans below average. Grain quality for both crops is excellent, they added.
"Test weights are high for both, which is an indicator of good quality," Gibbs said.
Green agreed.
"Quality is just excellent for both corn and soybeans and the moisture's been good," she said. "Farmers are very tickled by that because they don't have to spend as much (for propane) drying it."
Mercer County farmer Seth Kohnen, who farms land east and west of Celina, said his soybeans were 2.5 bushels per acre below his five-year average and his corn was 30 percent above his five-year average. Strong winds on July 10 severely damaged some of his corn, but he was able to sell it as silage for cattle.
"For the year, all in all I'm extremely satisfied because the corn was so far above average that it (made up for) the beans," he said.
Though many farmers had hoped for bumper corn and soybean crops, most are pleased. Last year a drought brought yields down.
"Our farmers are happy with the crop as it turned out," Gibbs said. "Unfortunately the price of corn is only about 55 percent of what it was last year, based on a drought that was most severe in the western corn belt."
Green and Gibbs reported winter wheat looks good. The deadline of Dec. 15 has been set for reporting wheat acres to FSA offices for United States Department of Agriculture purposes, and for wheat to be eligible for crop insurance, Green noted.
"Wheat is looking excellent with great stands and emergence before going into dormancy," she said.
Much uncertainty remains in USDA farm support programs; Congress has not drafted a new five-year farm bill. The last farm bill was extended, but the extension expired Sept. 30.
House and Senate conference committees met publicly for the first time Wednesday to try to merge their two versions.
"Right now a lot of our programs are not available until we have a new farm bill," Green said. "That includes livestock, natural disaster, dairy and Conservation Reserve Programs."