Saturday, November 2nd, 2013
Flyers win outright MAC title
By Gary R. Rasberry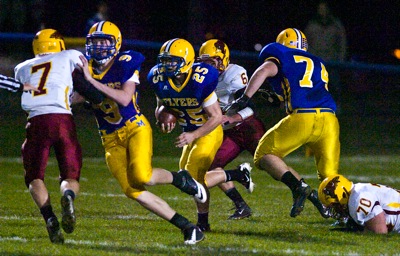 MARIA STEIN - It took just two plays to put Marion Local's football team in gear for an outright Midwest Athletic Conference title.
Long touchdown runs from Hunter Wilker and Aaron Nietfeld on the first two offensive plays of the game for Marion Local helped the Flyers finish the regular season 10-0 with a 42-6 victory over New Bremen on Friday night at Booster Stadium in Maria Stein. It's just the second outright conference crown in the Tim Goodwin era as the Flyers's head coach.
The Flyers sewed up a home playoff game for Week 11 and will they look to become the first Division VII state champion with a third straight state title.
It's just the third time in the history of the program that the Flyers finish the regular season with an unblemished record. The first came in 1971 and the other was in 2007.
"It's a great accomplishment," said Goodwin. "It's another small senior class (nine) and didn't they have a lot of success when they were younger. Now they have talented underclassmen with them and they've been great leaders all year. This is only the third time in history we've gone 10-0. That's something special. We keep hoping to make this special."
Marion Local has overcome some adversity to finish with a perfect regular season, including the loss of starting quarterback Adam Bertke and running back Jacy Goettemoeller to injury for significant parts of the latter half of the season. Marion Local was forced to use receiver Troy Homan at QB after back-up quarterback Dustin Rethman was injured last week. Despite the changes in personnel, the winning tradition never changed.
"It's the best feeling in the world. The resiliency of this team is awesome," said senior lineman Jason Brunswick. "... Just shows the hard work we've been putting in is finally start to pay off."
"We really stepped it up this year," said senior linebacker Brandon Prenger. "We had a lot of people coming back. We worked hard in the offseason and tried to stay consistent as much as possible."
After forcing New Bremen (0-10) to punt on the opening possession, Wilker took the handoff from Homan and broke free for a 45-yard scoring run with just a minute gone in the game.
Another three-and-out by New Bremen gave the Flyers the ball at their own 23-yard line. Nietfeld then got the ball and raced to the outside before kicking on the afterburners for a 77-yard TD run to give the Flyers a 14-0 lead on just 25 seconds of total possession of the ball.
"I thought we had a good game plan to come out and move the ball. We started slow," said New Bremen coach Jason McGaharan. "For whatever reason, we've tended to do that all season long, but our guys responded."
A second Wilker score in the quarter put the Flyers in front 21-0 before the Cardinals could sustain a drive.
Goodwin, who was complimentary of the Cardinals' offense leading up to the game, got to see a sustained New Bremen drive that lasted 16 plays for 80 yards with Garrett Westerbeck scoring on a one-yard run to close the gap to 21-6.
"I think the kids realized after that drive they thought, 'Hey, we can play football with these guys,'" said McGaharan. "I really thought our kids gave great effort the rest of the way. It's just a shame it took three scores on the board to give the effort I thought they were capable of. That's a great team over there on the other sideline in Marion. Tim's got it going."
"I thought New Bremen played hard," said Goodwin. "Really, I've got all the respect for their kids and coaches for hanging in there through this tough season. I thought their offense did a lot of good things all year long. My hat's off to them for playing hard all year long."
From there, it was all Marion Local, which got a 14-yard touchdown pass from Homan to Austin Albers to make it 28-6 at halftime. The Flyers then added two more touchdown runs from Nietfeld, from 10 and five yards, in the third quarter to wrap up the scoring.
Nietfeld, getting most of the handoffs with Goettemoeller on the sidelines resting up for the postseason, rushed for 228 yards on 18 carries with the hat trick of scores. Wilker added 93 yards rushing on eight carries and made three catches for 35 yards.
Jacob Gilberg led New Bremen with 62 yards rushing on 11 carries while Westerbeck carried the ball 14 times for 45 yards.