Tuesday, November 12th, 2013
Indiana man killed in car-semi crash
By Margie Wuebker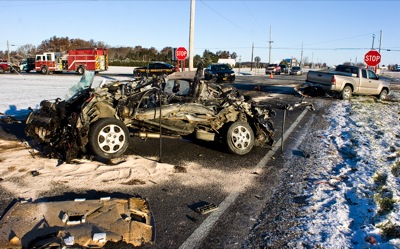 An Indiana man was killed shortly after 6 a.m. today when his car struck a semitrailer at the intersection of state Routes 118 and 29, west of Celina. The 6:08 a.m. accident occurred when a southbound 2011 Freightliner semitrailer, driven by Robert Riley, 54, of Fort Jennings, failed to stop at the state Route 118 stop sign and proceeded into the intersection, according to Mercer County Sheriff's Office reports. Ronald Albers, 56, of Portland, Ind., was driving his 2002 Hyundai Elantra eastbound and struck the semitrailer behind the tractor-trailer wheels and went beneath the trailer.
The car reportedly emerged from the trailer and struck a 2007 Toyota pickup truck driven by Abraham "Abe" Timmerman, 39, of Fort Recovery. The pickup truck was stopped northbound at a stop sign at the intersection of state Route 29 and Burkettsville-St. Henry Road, and was pushed into a nearby ditch. Albers was pronounced dead at the scene by Mercer County Coroner Dr. Timothy Heinrichs.
Riley, who reportedly told authorities he did not see the stop sign, was transported to Mercer County Community Hospital in Coldwater, where blood was drawn for testing. Mercer County Sheriff Jeff Grey said such tests are performed routinely in fatal accidents to determine whether alcohol or drugs were a factor. Timmerman was not injured.
Grey did not know if weather conditions were a factor in the accident. Local weatherman Dennis Howick reported 1.1 inches of snow fell overnight.
The semitrailer, owned by CEVA Logistics U.S. of Van Wert, and Albers' car were removed from the scene and the intersection was opened for traffic about 9:30 a.m.
The completed report will be forwarded to the Mercer County Prosecutor's Office for review and possible charges.
Deputies were assisted at the scene by Celina Fire Department personnel.