Saturday, November 30th, 2013
It's a small world
Local companies use global strategies to market products
By Doug Drexler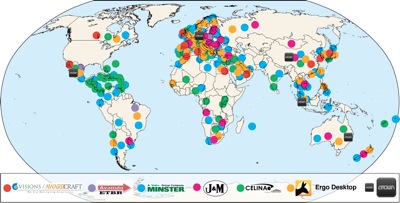 Technological changes and a dedicated, well-trained workforce have opened a world of opportunity for area companies.
The Internet has in many ways leveled the playing field between corporations in major metropolitan areas and companies in small towns. In fact, some local business leaders see advantages to operating in a small town.
"I think we have good workers - a good work ethic," said Janice Grieshop, vice president of Celina Tent. "The cost of living is better."
Bill Zink of Nidec Minster, one of the veteran export-oriented companies in the area, said Minster is blessed with employees who have grown up in the area and learned their work ethic from their forefathers and mothers.
"That has had huge impact on the success and reputation of the company," he said. "Customers can sense that the minute they walk in the door, and they're never disappointed with the Minster experience."
Work ethic makes a difference
"I believe the marketplace and technology changes have leveled the playing field for local companies to compete globally - to a certain extent," said Dave Willis, president and chief executive officer of Visions/AwardCraft in Celina. "In my experience, they allow a company to get exposure overseas and help introduce a company to a consumer. Once that relationship is established, it still falls back to the company to be good enough to perform. Anyone can put up a website, but not everyone can drop-ship a product worldwide to any country in the same day."
The work ethic in the area, Willis said, is terrific.
"I have been fortunate in my life and been able to travel to Asia countless times," he said. "I have yet to be in a location with similar dedication to one's work."
Those low costs and high-quality employees combined with the Internet have led to an explosion of local products popping up all over the globe.
"You can set up shop and market anywhere in the world," said Mercer County Development Director Jared Ebbing. "If you master technology you can market anywhere."
"I'll take a Mercer-Auglaize County person any day," he said. "We still make something other people want, and we still grow something other people want."
While there are some challenges to marketing overseas, David Cahill of Avanulo Consulting in Celina, said Americans can be overly self-critical, and there is a welcoming nature beyond our borders that makes being an American an advantage.
"People think the world hates the U.S. That's a lot of bunk," Cahill said. "It's possible we're just too self-critical."
He said many people don't see firsthand how people in other countries see us. The impression outside the country is "Americans know how to build products, management and profits," he said.
The trend toward more overseas sales has led to secondary growth among companies that support and supply the exporters, Ebbing said.
"It's an investment train," he said.
Ebbing said his office has heard of local businesses increasing their international footprint but he could not give firm data because companies do not have to supply the information. The Daily Standard contacted several known exporting companies to learn of their experiences and what it means for the area. Some declined to reply.

Diverse products, varied locations
Crown Equipment is one of the largest exporters in the area; it builds and distributes lift trucks and other equipment around the globe.
Crown has headquarters in New Bremen with regional headquarters in Australia, China, Germany and Singapore. It operates a global service and distribution network with more than 500 locations in 84 countries. The company has manufacturing material handling equipment in seven U.S. locations - New Bremen, Minster, Celina and New Knoxville in Ohio; Greencastle and New Castle, Ind., and Kinston, N.C. The company also has international manufacturing operations in Suzhou, China, Roding, Germany, and Querétaro, Mexico, said spokesman Dave Helmstetter.
Ergo Desktop owner Dan Sharkey backed up Ebbing's comments on exports having a secondary effect, saying he likes to spread his work around the area. His company uses local firms for parts and packaging among other things.
"We use as many local suppliers as possible," he said.
He has seen his business grow in areas of the world that are developing technologically. He sells adjustable desks that allow people to work on their computers while standing, tapping into a growing worldwide realization that sitting for long hours every day is a health risk. Up to 10 percent of his business is outside of the United States.
"Fifteen years ago you couldn't even have sold this," he said, adding demand would have been too low to make a profit.
With the Internet, anyone in the world who looks up phrases such as ergonomics, adjustable desks or back pain can find his business. His company has sold products on every continent but Antarctica, and is in the process of moving to larger quarters in Celina to handle the added volume.
Simple steps can open up huge potential, said Shannon Grieshop of J&M Manufacturing, Co. of Fort Recovery. His company now sells some of its grain wagons in easy-to-assemble pieces to allow them to be transported in standard containers, making shipping easier and less expensive.
International sales on a smaller scale began in the mid-'60s after J&M developed a relationship with a distributor in Ontario, Canada, but recent developments have opened up the rest of the world. About 8 percent of the company's sales are outside of the United States, but he expects that percentage to grow considerably over the next five years.
He credits the company's success to the decision to invest the necessary time and resources to modify its existing products to meet international demands and specifications, as well as a commitment to develop an international network of partners to assist in the sales, research and marketing.
"Technological advancements have made it easier for companies to market their product to virtually anyone in the world and conduct business anywhere and at any time, all in a relatively inexpensive way," he said. "We have established a number of business partners internationally simply through our website and various communications via e-mail, Skype, etc."
Higher quality materials, workmanship and innovative design features distinguish J&M from its foreign competition, Grieshop said.
"Our workers play a large part in our ability to build superior equipment," he said. "Everyone works extremely hard, puts forth a lot of time and energy each and every day and takes great pride to be the very best. It shows in the final product and is easily recognized anywhere."
Celina Tent's Janice Grieshop said the ability to sell worldwide led her company to completely change its focus. The business began by renting tents, then it began making its own tents to rent. Eventually, it began selling so many tents the rental portion of the business was sold. Now only 5 percent of the company's business takes place in Ohio.
"It's been a whirlwind," she said. "We were just a rental company. We started a small website. We couldn't do both adequately, so we switched over (to tent sales)."
Today, the company sells all over the world, generally to places with U.S. embassies or military bases. The Marine Corps is a large purchaser of the company's specialty pop-up tents that are used as mobile decontamination units, she said.
A company's agility can be key to its success, said Willis of Visions/AwardCraft.
"Visions sells through a distributor network, so it is essential for us to be the 'go to' company for our customers," he said. "Traditionally, we relied on a rep network to get our message and product across to distributors in the United States. However, to grow revenue overseas, we have had to use different channels to be effective. Our websites, traditional and mobile, have helped customers locate us to start a sales relationship."
Technology infrastructure, Willis explained, allows pieces of an award to be manufactured in three different countries, flown into Celina, matched up in a specific job kit and shipped to a customer in less than one day.
"We also handle fulfillment and international distribution," he said. "For example, one award order can be distributed from our warehouses in Asia, Europe and Ohio simultaneously."
He said the company ships awards and recognition products internationally on a daily basis. About 10 percent of the company's business is outside of the United States and the percentage is growing.

Prosperity brings challenges
Some challenges go along with the promise of overseas sales. Most business owners said much of the burden, especially dealing with import issues and taxes, falls on the purchaser.
Nidec Minster's Zink sees some challenges particular to his industry, including the internationally-dominant metric system for measurement. His company also has to weave its way through the maze of electrical systems in places around the world.
"It seems like every country has their own standards for voltage and phases, so equipment needs to be re-engineered electrically or require a transformer," Zink said.
These differences are vital since the company sells mechanical power presses and related devices. The company has an 85 to 90 percent share of the packaging industry, which includes beverage containers, battery casing, oil filters and similar items. Minster's business is about three-quarters out of the country.
There are also factors outside the company's control, Zink said.
"The strength (or weakness) of the dollar has a major impact on the ability to do business internationally," he said. "The fluctuation of currency exchange rates globally can mean the difference between a sale and a lost opportunity."
In addition, Zink said the cost to move a product internationally can be quite significant, especially in Minster's market of large, heavy and expensive machinery.
"There are crating, rust prevention and other issues that need to be taken into account," he said.
A company's agility in dealing with issues is a bigger factor in its success than its use of technology, Zink argued.
"I believe that it's been the adaptability of the successful local companies to technology that has created their own openings," he said. "Technology itself does not make this happen magically by osmosis."

Business comes full-circle
Cahill's consulting company helps businesses target problem areas and improve productivity. The "Avanulo Way" is based on a continuous improvement system that was originally created by American W. Edwards Deming.
The process did not take root immediately in the United States, but was quickly adopted and fine-tuned in Japan.
He helps organizations improve ways to cut waste, balance the workload so every part of the system is used efficiently and to make sure employees feel respected and part of the process. He places particular emphasis on the last two items, which are based on the Japanese ideals of balance that aim to create a smooth, even process that does not overburden any person or area.
Cahill actually began his business in 2009 by focusing outside the United States. A stalled U.S. economy forced him to overseas, where he helped companies in Latin America, the Middle East and Europe. Many of his clients were U.S. or European companies that were having trouble with overseas operations because they were dependent on expatriates and were having trouble finding and developing local talent.
Last year, 70 percent of his company's business was outside the United States, but this year he plans to flip that focus and generate 70 percent of his business in America.
"Now we've got the reputation to bring back to the U.S.," he said.