Saturday, November 30th, 2013
Record-breaking day for former Coldwater standout
Wenning's Cardinals torch Bath's RedHawks
By Gary R. Rasberry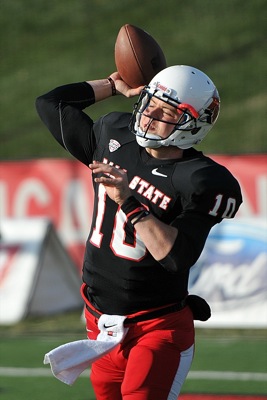 MUNCIE, Ind. - Although there is one more game for Ball State's football team this season, the home fans at Scheumann Stadium got one more chance to see Keith Wenning do what he has done so well for four years.
The Coldwater High School graduate and Ball State senior wrapped up the regular season in fine fashion by leading the Cardinals to a 55-14 victory over winless Miami (OH) on Friday afternoon in Mid-American Conference action.
"It was a good game. We played well," said Wenning. "A lot of good things on offense, defense and special teams. It's a bittersweet feeling, being the last game at Scheumann Stadium, but it feels great to get the win."
Already the school record-holder for career passing yards (now at 11,187), touchdowns (91, which is also good for fourth all-time in MAC history), passing attempts (1,598) and completions (1,012), Wenning added a couple of season records in the first half. He broke the mark of 30 touchdowns and 3,667 passing yards, both previously set by Nate Davis in 2007.
Wenning broke both marks with ease thanks to a 21-of-26 performance through the air in the first half for 301 yards. Wenning is the only Football Bowl Subdivision quarterback to throw for 299 or more yards in 10 games this season, with his second touchdown pass to Jamill Smith to set the new season standard. He went on to add two more TD tosses before the Cardinals went into the locker room at halftime ahead 35-0.
Wenning then added another touchdown pass in the fourth quarter, hitting Jordan Williams for 75 yards for his sixth touchdown pass, setting a new school record and matching his career high in passing yards with 445 yards on 27-of-33 passing.
Praise between Wenning and head coach Pete Lembo were mutual.
"Coach Lembo and Coach (Rich) Skrosky, my quarterbacks coach, are like two father figures," said Wenning. "Coach Skorsky has worked with me to improve my game, help me understand football and be a better student of the game more than anybody. He allows us to be put in positions to be successful. He's a great offensive coordinator and and a great quarterbacks coach to have."
"I got a chance (Thursday) to talk to our team about all the seniors. I jokingly left him for last because he's last in the alphabet," said Lembo. "I also jokingly asked if I forgot anybody.
"The first thing I told the team about Keith is that he's such a humble leader. He's a guy who allows his performance to do the talking for him. He's not afraid to be a vocal leader when he needs to be, but not a guy who needs to be out in front, claiming the glory, so to speak. He'd rather sit back and let the results speak for themselves and see his team enjoy the success," added Lembo.
Miami interim coach - and fellow Mercer County native of Celina - Mike Bath knew Wenning was special while scouting the Cardinals.
"If it wasn't for Jordan Lynch (Northern Illinois' quarterback), Keith Wenning would be the premier offensive player in this conference," said Bath. "I remember sitting out there when he was 18-years old and a senior in high school standing out there with Stan Parrish (the Ball State coach at the time). They were worried about 4-5 other kids in the camp and (Wenning) was the best one there. I was hoping Ball State wouldn't take him so I could coach him at Ashalnd (where Bath was offensive coordinator at the time), but things worked out the way they're supposed to."
Friday's win marks only the third time in 89 years that Ball State has 10 wins while also securing a third straight bowl berth. Wenning talked about how quick his career has been since arriving on campus.
"It's been good. It's went by fast," said Wenning. "I tried to improve each year. Offensively, I've done that, and as a team, we've done that. It's been a great ride. We're trying to finish it out with a bowl win."
Whichever bowl the Cardinals are offered, Wenning will be ready.
"We're still going to practice before (knowing who and where they play)," said Wenning. "Once we find out, we'll gameplan, get some film on them and be ready when the time comes."