Wednesday, December 4th, 2013
Mattingly blossoming into a star at Louisville
By Robb Hemmelgarn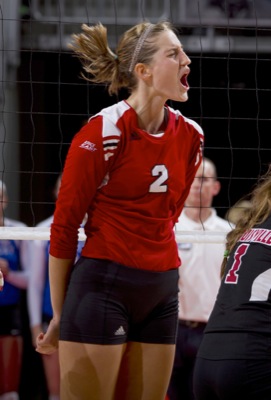 In her college profile, Brooke Mattingly lists her favorite book as "Oh, The Places You'll Go," a phrase to which the University of Louisville volleyball standout can attest.
While her volleyball career at St. Henry flourished under head coach Lori Schwieterman from 2005-2008, her résumé became littered with All-Ohio, All-District, and All-Midwest Athletic Conference accolades. As graduation approached though, she was uncertain which direction her map would lead her. She eventually landed at Louisville, but don't assume the 6-3 front row player wasn't overwhelmed when she initially settled in on campus.
"To be honest, I was shocked when I first arrived here and didn't really know what I was getting myself into," she admitted. "I came from St. Henry, which obviously supported a very strong volleyball tradition, but making the transition from high school to college was certainly an adjustment. I played for the Grand Lake Volleyball Club in my off-seasons, but we didn't travel very far. My first few practices here, I was surrounded by and competing against girls who had played all over the country and they were very, very good. I felt like I was the worst player on the team at the time."
Mattingly was redshirted in 2009 and played sparingly in 2010 before joining the starting rotation as a sophomore in 2011, where she has been a fixture ever since.
"The coach who recruited me to Louisville had a very big pull in international recruiting," she pointed out. "I played with girls from Germany, Poland, China, Russia, Jamaica and Uzbekistan. My team at St. Henry was a tad less diverse than this group, so I am fortunate to have played and become friends with all of them. They have taught me so much more than just volleyball skills."
As a junior in 2012, Mattingly solidified herself as a go-to player for Louisville, earning second team All-Big East accolades while also being named to the all-tournament teams in the Cardinal Classic and the Louisville Invitational.
Mattingly graduated in May with a degree in art education, but she was looking forward to one more year of athletic eligibility this fall when Louisville moved to the American Athletic Conference and joined several former Big East schools in the new affiliation.
"I tried out for the U.S. Women's National Volleyball SeniorA2 team last spring," she remarked. "I was one of 47 players and eight for my position chosen out of almost 250 by legendary coach Mike Hebert and his staff. As I played alongside and competed against the very best players in the country, we took the gold medal in the tournament. I am so appreciative of all that I learned from that experience. Coming out of high school, I could have only dreamed of being a part of something like that."
This season, Mattingly has helped guide the 23-7 Cardinals to the AAC regular season and tournament titles, to earn an automatic bid for the NCAA tournament which commences this Friday against eighth-ranked Marquette. She was also recently awarded the American Athletic Conference's Co-Player of the Year.
"Louisville has one of the best facilities to play volleyball in. Last year we had more than 5,000 fans in attendance when we played the University of Kentucky," she explained, noting that the Cardinals were unbeaten at home this season. "I've been a part of a top-10 program as well as a member of a regular season or conference tournament championship in my five years that I have been here, so it has really been amazing."
Over the years, Mattingly relished in the unwavering support from her family and friends and credits much of her success to their backing.
"My parents made it to nearly all of my games no matter where they were played," she praised. "They logged a lot of miles in the car following my career and I can't say enough how much that means to me. Coach Schwieterman and former St. Henry coach DeDe Stoner usually try to make it to a couple of games every season too and last year the whole St. Henry volleyball team came to watch us play, so that was a great experience as well."
With her career soon to be in the rearview mirror, Mattingly harbors mixed emotions while she reflects on it and ponders the next step in her life.
"I will definitely miss the girls I played with over the years and the relationships I developed with them. It has been a great ride," she commented. "When the season is over, I will continue to work on my Master's Degree in Art Education and will coach a group of 5th and 6th grade boys in volleyball this winter. The one thing I will tell any kids that I coach is that if you have a passion for what you do, you will be successful. You need to work hard and keep that excitement while you are working. If you can do that it will take you a long way in both athletics and in life."