Friday, December 6th, 2013
Marion Local improves to 5-0
Flyers take control with an 18-2 run to close third quarter
By Ryan Hines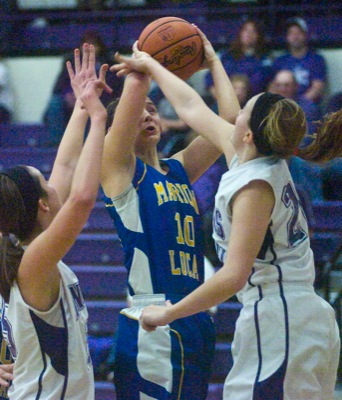 FORT RECOVERY - Marion Local's game-changing run to end the third quarter turned a close game into a blowout as the Flyers opened Midwest Athletic Conference action with a 63-46 victory over Fort Recovery on Thursday night at Fort Site Fieldhouse.
After leading by as many as 16 points in the first quarter, Marion Local (5-0, 1-0 MAC) was nursing a 33-32 advantage at the 5:51 mark of the third quarter when the momentum shifted toward the Flyers. Cadence Jacobs, who was scoreless through the first half, hit a mid-range jumper and went on to add five more points to ignite an 18-2 run that gave Marion Local a 51-34 lead entering the fourth quarter.
"That run was huge for us because we led big early on and then let them back in the game in the second quarter," said Marion Local head coach Treva Fortkamp. "We attacked the basket more during that stretch and we were able to hit a few perimeter shots to make their defense play honest."
"They are a good team. We didn't make shots, didn't take care of the ball and we just gave up too many offensive rebounds that they turned into points during that stretch," said Fort Recovery head coach Doug Bihn. "They killed us inside early in the game so we tried to pack the defense in to stop their post players but they hit a few jumpers from the outside."
Jacobs was 0-for-6 from the field before scoring all nine of her points in the third quarter.
"Cadence came alive for us. She struggled early in the game but she is too good of an athlete to stop shooting. She knocked down some big shots for us when we needed them. That was the boost we needed," said Fortkamp.
Fort Recovery (4-1, 0-1 MAC) opened the fourth quarter with nine straight points to trim its deficit to eight points at 51-43 but Marion Local closed the game with a 12-3 run.
The Flyers put the Indians in a 12-3 hole during the first four minutes of the first quarter as Brooke Winner and Emily Mescher combined to score 12 points.
"We just didn't come ready to play. They came out and hit us hard. We were trying to run a 2-2-1 zone but we didn't get any ball pressure and they were able to find their post players for layups," said Bihn.
Allie Thobe then scored five straight points to put Marion Local on top 19-3 at the 2:27 mark of the opening quarter.
The Flyers took a 23-10 lead into the second quarter before the Indians rallied. Tori Lennartz scored scored five points and dished out three assists to key a 14-2 run that trimmed Marion Local's lead to 29-28 at halftime. Fort Recovery outscored Marion Local 18-6 in the second quarter
"We had a great first quarter but then we got impatient and threw the ball away in the second quarter. I think we were complacent and too relaxed. We just can't let that happen," said Fortkamp.
Winner led all scorers with 20 points while Thobe added 18 points and a game-high 13 rebounds.
Kendra Siefring led Fort Recovery with 14 points while Kara Jutte and Lennartz added 10 apiece.
Marion Local is back in action again on Saturday, hosting Russia while Fort Recovery travels to Delphos to play St. John's next Thursday.