Tuesday, December 10th, 2013
Lefeld enjoying successful career with Bearcats
By Bruce Monnin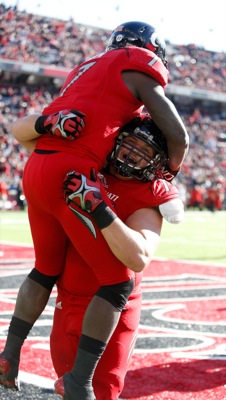 CINCINNATI - Eric Lefeld was part of a great winning football tradition at Coldwater high school, which included a Division IV state championship as a sophomore in 2007 and a state runner-up finish as a senior in 2009.
These days, Lefeld is enjoying more success at the University of Cincinnati, where the junior has been a starter at tackle all three years of his career while helping the Bearcats win a share of Big East championships in 2011 and 2012.
Cincinnati's 2013 regular season culminated in an emotional 31-24 overtime loss to rival Louisville last Thursday night. UC's 9-3 record this year has earned the Bearcats a return trip to the Belk Bowl in Charlotte on Dec. 28th, against 6-6 North Carolina. If the Bearcats win the bowl game, Cincinnati will join Alabama, Oregon and Oklahoma as the only programs in the nation to have won 10 games in six of the last seven years.
The 6-6, 309-pound son of Linda and Allen Lefeld knows that he will have plenty of support at the bowl game, as he has had all season long.
"My parents don't miss a game. If they can make it, and it's within their means, they'll be there," said Lefeld after the Louisville game. "I love getting to see them every game. Both my brothers were also here."
It was the last game Lefeld will play in historic Nippert Stadium. The Bearcats will play at Paul Brown Stadium next year while the on-campus stadium undergoes a major renovation.
"It was kind of surreal getting to play my last game here in Nippert," added Lefeld.
Offensive linemen often only get noticed for negative events such as holding penalties, false starts or sacks allowed. However, Lefeld is starting to get attention nationally for his performance on the field. Earlier this year, his name was on the Outland Trophy watch list, a trophy awarded for the best interior lineman in college football.
"To be honest, I try to stay out of all the talk online and just focus week to week on our opponent," claimed Lefeld. "I don't know what the update is on it (the Outland Trophy), and I am not too worried about it."
Lefeld was more proud of the fact he never left the field for an offensive snap against Louisville.
"I stayed in every play," confirmed Lefeld with his first smile since the end of the overtime loss. "As a unit, we hit a lot of our goals, but at the end of the day we still lost the game. We stuck in there, and we fought every snap. I'm proud to be a part of the offensive line and to be a part of this team. I just wish we could have come out on top."
Lefeld was originally recruited to Cincinnati by current Notre Dame coach Brian Kelly to be a defensive lineman. When Butch Jones took over as the head of the Bearcats' program when Kelly left to coach the Irish before the 2010 season, Lefeld turned his attention to the offensive line. He started seven games his freshman season at right tackle and was then moved to left tackle where he has been ever since.
This year, Lefeld and the rest of the Bearcats welcomed new head coach Tommy Tuberville and a new coaching staff. Through both of the transitions, Lefeld never wavered from his commitment to Cincinnati.
"I got to know UC when I was recruited during my junior year in high school by coach Kelly's staff. This university sells itself," said Lefeld. "It has a family atmosphere on the team. I never once thought about leaving here when the coaches left. This is where I want to be. I am very glad to stay."
Lefeld has also been taking care of business in the classroom throughout his college career.
"I am about to graduate with my undergraduate degree in marketing," said Lefeld. "I think I will continue on to my MBA. I am going to try to complete as much of it as I can while I am here, but I'll take it one step at a time."
Lefeld says he hasn't been able to keep in contact with as many former Cavaliers as he might like.
"There are a couple of Coldwater kids a few years younger than me here. Troy Otten is here and coach Otten is a great friend of mine," said Lefeld. "There are a few more here I could list, but it is kind of hard keeping in touch with everybody with the hectic schedule of practice and class."
Before moving on to his senior season, Lefeld has one more opportunity on the football field this year during the upcoming Belk Bowl. His two previous trips to bowl games have been successful, as the Bearcats defeated Vanderbilt in the 2011 Liberty Bowl and Duke in the 2012 Belk Bowl.