Thursday, December 12th, 2013
Heroin leaves trail of broken lives
By Margie Wuebker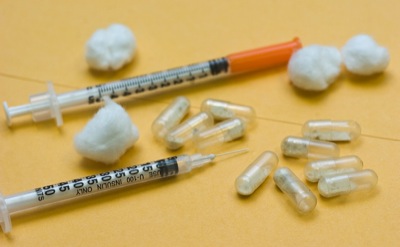 Editor's note: This is the first story of a three-part series about the heroin problem in the area, its impact on the community and steps being taken to deal with the problem. Names of those dealing with heroin addiction have been changed for the story to protect the person's identity.
Sarah stares at the needle marks in her arm and laments how heroin has affected not only her life but those of many local people.
"Drugs come and go," she said with a sigh. "My parents grew up in the marijuana era and I'm part of the heroin generation. It's all so scary ... I wonder what my own kids will get involved in some day."
Heroin has reached epidemic proportions throughout the state and in this predominantly rural area, according to Mercer County Sheriff Jeff Grey. The drug does not discriminate; it strikes at every socio-economic level, he added.
"No area is immune and the problem doesn't stop at the county line," Grey said. "I've been in law enforcement for 33 years and no other drug - marijuana, methamphetamine, cocaine or anything else for that matter - holds a candle to heroin."
At $20 to $25 a hit, heroin is relatively cheap - at least in the beginning. However, addicts quickly discover they need more and more to achieve the desired high. A $300 daily habit is not uncommon for some users, Grey said.
Authorities say at least 70 percent of the heroin in the local area comes from Dayton along Interstate 75 - dubbed heroin highway by many law enforcement agencies. Fewer amounts arrive from Lima and Fort Wayne, Ind., they said.
The Grand Lake Task Force, comprised of sheriff's deputies and police officers in Mercer and Auglaize counties, has arrested local residents returning from drug buys in Dayton. A Fort Recovery-area man was shot and killed during a drug deal there in 2007.
"Heroin is a plague throughout the country and it showed up here four to five years ago," interim Celina Police Chief Calvin Freeman said. "Victims range from teenagers to folks in their 50s who should know better."
Sheriff's office statistics for 2013 show 78 heroin-related incidents through Oct. 31. The raw numbers include actual heroin arrests, incident reports and traffic stops.
Heroin-related incidents totaled 29 in 2010, 51 in 2011 and 33 in 2012. Authorities suspect the numbers are merely the tip of the iceberg.
"Since heroin raised its ugly head, it has become an absolute nightmare," Freeman said. "At least 80 percent of the criminal cases we investigate are related in some way to heroin."
He believes the recent rash of vehicle break-ins can be attributed to young people in search of money and/or electronic items to finance heroin buys. Authorities also suspect the drug is a factor in numerous thefts, shoplifting incidents, breaking and enterings and robberies.
Several years ago Grey and Auglaize County Sheriff Al Solomon presented a heroin information program at Wright State University-Lake Campus, warning criminal activity increases when heroin moves into an area.
"We have seen crime escalate here in the interim," Grey said. "Not only burglaries and thefts, but a home invasion and a double murder."
Three people involved in a Mendon-area home invasion in February 2012 reportedly took the money they stole from the victims to buy heroin in Lima. One of the alleged suspects in a double murder investigation testified he and his companions used drugs before entering the Fort Recovery-area home of victims Robert and Colleen Grube in November 2011.
The drug becomes more important than anything else, users say.
"Heroin takes over your life," Sarah said. "I had it all ... good grades, popularity, a nice home, loving parents. I got in with the wrong crowd in college. Now my dream of becoming an elementary teacher is dashed because of a criminal record."
She is not proud of her actions - stealing from family and friends, working in a strip club and resorting to prostitution. The money initially went to buy heroin for snorting. She switched to injections after three years because the high came more quickly.
"I did heroin every day and I survived the pain of withdrawal ... the shakes, sweats and puking," she said. "I promised everyone heroin would never lead me down that path again and each time I failed. The only way out for someone hooked on heroin is an institution of some kind, prison or death."
She describes her experience as a two-part high - first feeling the needle enter her vein and then an overwhelming rush of euphoria and peace. Memories of the rush come unbidden even in jail.
Jeremy also understands the power of heroin addiction. He battled "the demon" for eight years before successfully completing a rehabilitation program in another state.
"I had to reach rock bottom before I could begin climbing toward the light," he said. "I overdosed one night and came face to face with my own mortality. Thankfully, I had a supportive family who cared enough to send me away to rehab."
Now married and the father of young children, he admits there are times when cravings return.
"I've lost friends - good friends - to heroin," he said. "God help me, I will not let it take me away from my family."
While living out West, he became friends with a young couple who also were on the road to recovery. They "shot up" in an alley outside a bar. Fortunately, he found them in time and called paramedics.
Mercer County has experienced at least nine drug-related deaths since 2010 and authorities are awaiting toxicology results in two other cases. Statewide, there were 606 deaths - averaging two a day - attributed to heroin overdoses in 2012, more than twice the number in 2010, according to Ohio Attorney General Mike DeWine.
Local paramedics typically respond to three drug-related calls per month, Celina fire chief Doug Wolters said. There have been times when several calls arrived in close proximity, leading authorities to suspect someone obtained more potent doses or the drug had been cut incorrectly.
Rescue measures, like injections to counteract the heroin, are successful if administered early enough.
"If you lose breathing and then pulse, there's no way to bring them back," Wolters added. "These calls really get to you. Something needs to be done before more lives are lost."
DeWine announced at a November press conference that he is establishing a new heroin unit to battle the steady rise of the drug's use. The unit will include investigators, lawyers and drug awareness specialists working to assist law enforcement.
"We have to fight this epidemic at a grassroots level - community by community, neighborhood by neighborhood," he said during the press conference in Lima. "We have to get mad and say 'Enough is enough.'"

(Tomorrow: Battling addiction problems.)