Friday, December 20th, 2013
Organizers hope to attract 2,500 runners for first Grand Lake Marathon
By Doug Drexler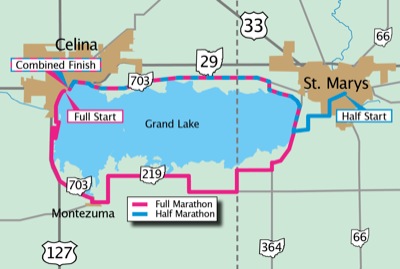 Roger Bowersock had been kicking around the idea of a marathon around Grand Lake for several years, but an off-hand comment last summer finally set the time frame for him.
Bowersock, whose Rocketship Sports Management runs several local running and bicycling events, was in North Star for the Angel Run last summer. When someone asked about other events, he mentioned the idea of a marathon around the lake. There were microphones around, and his comments were broadcast. By the time he got home he already had emails asking for the date of the marathon and details about its website, which did not exist.
At that point he had only been laying the groundwork for the marathon, seeking the necessary permits and contacting local officials, he said.
Since then, Rocketship has set a Sept. 27, 2014, date for the Grand Lake Marathon and planned a Jan. 3 news conference to kick off further efforts to line up sponsors and volunteers.
Bowersock hopes to have 2,500 runners in September and make the race an annual event, envisioning 15,000 runners participating in coming years once the marathon is established.
He wants to start talking to residents who may be inconvenienced by the race to ease potential issues and gain their support. The website and an active Facebook page are both up and running. He hopes to have enough sponsors to ensure local law-enforcement agencies are fully reimbursed for their costs.
"We don't want to be a drain on police resources," he said. Rocketship contacted Ohio Department of Transportation to discuss issues related to using public roads for the event, he said. When the idea for the marathon first came up about five years ago, Bowersock said Rocketship would have been stretched dealing with all the logistics. However, since then it has gained experience running events such as the Donut Dash, Tour De Donut and other races and is now ready to make the event come off smoothly.
Bowersock, who grew up in St. Marys, said the lake seems to have been designed with a marathon in mind. The 26.2-mile route, starting and ending in Celina, fully circles the lake with no double-backs.
"It's almost a perfect marathon going around the lake," he said. "It was like it was made for it."
Many local runners would also benefit from a race in the area, he said. Runners now have to go to large cities and pay for hotel rooms, parking and restaurants. Now that money can stay local, and runners from out of the area will likely help local businesses as they and their guests come to town for the weekend, he said.
The natural setting should be a major attraction for runners accustomed to urban races, he said. While runners usually see 20-story skyscrapers on race day, this route will have the lake on their lefthand side the entire route and give them the opportunity to see eagles and herons.
"It's vastly different from an urban marathon," he said. "It could be the biggest event around because it's unique."
Issues with parking and spectators besetting urban races won't encumber the Grand Lake Marathon. People will be able to park at the Mercer County Fairgrounds and take shuttle buses to the finish line at Lakeshore Park in Celina. There will also be directions on how to see various other spots on the route, he said.
About 50 people from five states, including two people from California, have already signed up for the race, which will be a qualifier for the Boston Marathon, he said. One of the Californians grew up in the area and is coming back to visit family and run, he said. A 70-year-old runner had also signed up as well as one person participating in a wheelchair.
Area businesses should benefit from the race, said Jeni Bertke of the Auglaize and Mercer Convention and Visitors Bureau, who plans to run in the race along with her sister from Charleston, S.C.
"I think it's a great idea," she said. "It's definitely going to fill some hotel rooms, and we hope everyone gets behind it."
She would like to see the race become a big annual event, noting that many major cities do not have these races. The marathon would be a nice step-up goal for people who run the many 5K races or the 10K at the Minster Oktoberfest, she said.
The event also will feature half marathon and 5K and 10K races, as well as a children's race that allows 10-year-olds to teens to add up their runs throughout the and summer then running the final mile of their marathon on race day. The children would receive the same awards as other runners.
"I'd be really disappointed if this isn't the biggest event in the area this year," he said.
The addition of the race has led to changes in some of Rocketship's other events, though, he said. The Tour De Donut bicycle event has been canceled due to the marathon and construction work on Celina's Market Street. The Donut Dash has relocated to Dayton, he said.
Rocketship is a non-profit group with no one earning a salary, Bowersock said, adding he hopes to donate proceeds from the Grand Lake Marathon to the CALL Food Pantry and Agape.
Runners wanting to sign up can go to
www.grandlakemarathon.com
. Early Bird discounts expire Jan. 1.