Friday, December 20th, 2013
Celina and St. Marys split a pair of WBL matches
Undefeated Defiance picks up two victories
By Gary R. Rasberry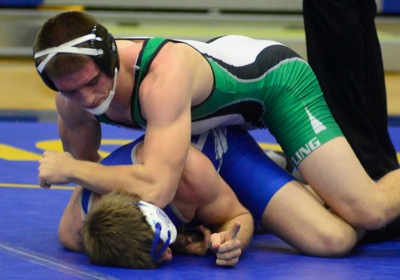 ST. MARYS - Celina and St. Marys split their wrestling matches at a Western Buckeye League super-triangular on Thursday at Murotech Court. Undefeated Defiance knocked off Celina and St. Marys while Shawnee fell victim to the two Grand Lake rivals.
Defiance knocked off Celina 52-15 before the Green and White defeated Shawnee 45-22. The Roughriders opened the night with a 43-25 win over the Indians before suffering a 48-19 loss to Defiance.
Defiance jumped out to an early 15-0 lead against Celina with two pins and a win by decision. Kyle Balthis gave Celina its first points of the match when he earned a 6-2 win over Zayne Yocum in the 160-pound match. Curtis Silliman tallied the only other contested win for Celina, scoring a pin in 70 seconds over Donovan Ray Jr. at 182 pounds. The only other points for Celina came from Alex Schlotterer via void at 132 pounds.
"They're the top of the league right now," said Celina coach James Miracle of Defiance. "They beat Wapakoneta by three earlier this year. They're definitely a good adversary. A good foe."
Celina started slowly against Shawnee, trailing 7-3 before Balthis pinned the Indians' Michael Monfort at 170 pounds to give the Green and White the lead for good. Deano Miller (182) and Silliman (195) followed with wins by pin to help the Bulldogs take control of the matchup.
Shawnee came back with two straight wins by decision in the 220- and 285-pound matches before Celina won via void at 106. Shawnee won at 113 pounds to close its deficit to eight points at 27-19, but a win by pin from Celina's Evan Stachler was followed by a void win at 126 pounds and an Austin Crites pin at 132 pounds gave the Bulldogs a commanding 45-19 advantage.
"Coming in, we thought Shawnee would give us an even match. The projections looked that way," said Miracle. "In the end, we had some surprises, some guys that really came through. The matches we did lose, we only lost by points, not pins. That makes a huge difference in a dual meet like this."
St. Marys picked up steam in its match against Shawnee after both teams were tied at 10-10. A win by decision for Luke Lemmerman at 182 pounds and a Spencer Knous pin at 195 pounds gave St. Marys a 19-10 lead before Shawnee earned back to back pins at 220 and 285 pounds for a 22-19 Indians' advantage.
The Roughriders took control of the matchup by dominating the matches at the lighter weights. A win by void at 106 pounds put the Roughriders back up 25-22 before Shawnee's Hunter Lucas won by decision at 113 pounds over Garrett Hower to tie the score for the final time. St. Marys then got wins via pin from Keyton Liming at 120 pounds and Eddie Reier at 132 pounds to help lead the Roughriders to the win.
Against Defiance, though, St. Marys struggled. The only contested bout wins for the Roughriders came from Ryan Slife at 170 pounds via decision, Luke Lemmerman at 182 pounds via pin and a decision win by Hower at 113 pounds.
"We'll take a win anytime we get one," said St. Marys coach Larry Gruber. "But we just out-wrestled against Defiance. We've got lots of things to go work on."
Celina's varsity wrestlers return to action Dec. 28 in Toledo for the St. John Jesuit Invitational. St. Marys heads to Marion Harding on Dec. 27 for the Marion Harding Classic.