Saturday, December 28th, 2013
Holiday season a little more jolly this year for area businesses
By Doug Drexler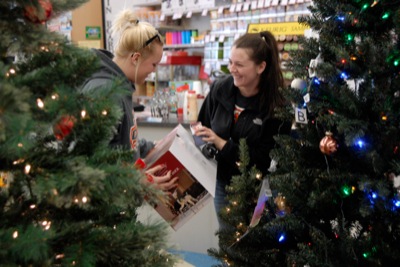 Local merchants are experiencing a bit more holiday cheer this Christmas shopping season with sales slightly higher than 2012.
Retailers say they are happy with the bump, especially since national forecasts called for flat or lower sales compared to last year.
Fears subsided as the shopping season wore on, said Jeff Halterman, manager of Celina's Ace Hardware store.
"Black Friday and Black Friday weekend were kind of soft. Then it picked up right until Christmas Eve," he said. "Hopefully, this can continue right into 2014."
The cold weather helped sales, particularly at his store, Halterman said. Many people came in looking for tools to deal with the snow, and the icy roads may have convinced people to shop locally rather than traveling out of town, he said.
"It's amazing how big of a factor weather plays in our business," he said. The amount of hand tools and power tools sold has him believing people have home improvement projects planned, he said. Many shoppers also were picking up gift cards - a growing trend among gift-givers unsure of what to buy.
Offering unique products also benefits local retailers.
"People who stop here know what you're going to get here you can't get anywhere else," said Bonnie Rutschilling, manager at Java Nation and Potter House.
The shop was selling more items - particularly Christmas decorations and scarves - and more food as people seemed to want to shop and eat locally, she said.
Shoppers at Celina's Dawg Town were ready to enjoy the season, noted employee David Giesige.
"We had a really good Christmas," he said.
Varsity jackets were a good seller, and people picked up lots of gag gifts to have a little more fun, he said.
Music lovers were particularly fond of the video game Rocksmith, according to Dean Schweizer, owner of Celina Music Store. The game allows users to plug a real electric guitar into a console and learn to play songs, he said, adding it is more challenging than typical video games.
"It's got something behind it," he said, adding music can lead to brain development.
Families were also looking for something to do together, said Cathi Hall, co-owner of Topsy Turvy Toys in New Bremen. Favored items included Legos, followed by science kits and puzzles and games people could play as a family, she said.
The Cornerstone Shop in New Bremen sold lots of nativity sets and books, said owner Angie Topp. The shop saw pre-Christmas sales rise slightly from 2012, and hopefully the good news is not over.
"Last year, December ended down because of bad weather," she said, explaining the store was forced to close the day after Christmas last year. This year has seen higher after-Christmas sales already, she said.
Identity Hair Salon owner Kristin Rutledge said customers seemed to be in the mood to treat themselves this year. She said the season was great, particularly during downtown Celina's Midnight Gladness event Dec. 6. Many customers - especially men - were picking up gift cards for gifts, she said.
Some of those men may also have been planning to propose. Steve Jones of Jones Jeweler in Celina reported brisk sales on diamond rings.
"We sold a lot of engagement rings," he said. "Apparently there is going to be a lot of engagements."
Overall, sales were up a little over last year, Jones said. He also saw a last-minute rush, with people shopping until the last minute on Christmas Eve.
Dave Jacobs of Jacobs Jewelry, who has been in business 40 years, said after some slow seasons, this year seemed to be back to about normal.
"It's like our economy. It's just the way it is," he said.