Saturday, December 28th, 2013
Hegemier earns 500th career win as 'Riders knock off the Rangers
By Gary R. Rasberry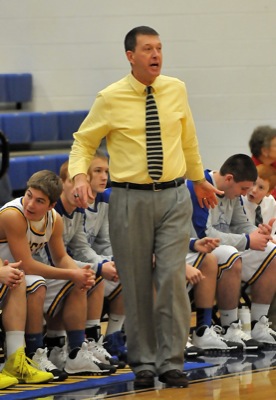 NEW KNOXVILLE - Dan Hegemier's milestone win wasn't easy as St. Marys nearly let a 10-point lead disappear in the fourth quarter before holding off New Knoxville for a 49-46 triumph over the Rangers on Friday night.
The Roughriders improve to 3-4 on the season while helping Hegemier reach 500 career wins in 32 years as a head coach.
St. Marys held a 19-17 advantage at halftime before stretching the lead to double figures in the third quarter. Derek Jay hit a three-pointer before Quinn Zaerr, Nathan Wilker and Isaac Fitzgerald contributed back-to-back-to-back buckets to give the Roughriders a 28-17 lead. Tyler Sullivan then completed a three-point play to cap a 12-2 run that put St. Marys on top 31-19.
The Roughriders kept their lead around the 10-point mark for most of the fourth quarter, in spite of struggling at the free-throw line. In the final 1:39 of the game, St. Marys was just 8-of-16 from the charity stripe and New Knoxville made a trio of three-pointers in the final 19.8 seconds to cut its to three points. However, the Rangers' last trey came with three seconds left on the clock and St. Marys never inbounded the ball waiting for the final horn since the Rangers were out of timeouts.
"It's a good win," said Hegemier. "Anytime you come here and win, it's great. I was impressed. We held our composure most of the game."
Fitzgerald led St. Marys with 10 points while Marquis Wilson, Josh Young and Jay each had nine points.
Shane Topp paced the Rangers with 13 points while Andrew Arnett, who was held to just two points in the first half, scored seven of his 11 points in the fourth quarter.
The Roughriders got off to a great start in the game as Jay and Fitzgerald hit three-pointers to help give St. Marys an early 8-0 lead.
"We got off to the slow start and they jumped out to the 8-0 run," said Rangers coach Kort Fledderjohann. "We got a little shell-shocked. He ran a lot of different things at us. But bottom line, it's all things we saw on tape and all things we worked on during the week."
It took nearly three minutes for New Knoxville to get on the scoreboard before Topp's trey at the 5:11 mark of the opening quarter.
New Knoxville came back and quickly cut its deficit to 8-7 on buckets by Topp and Ethan Kuck. However, Wilson scored on back-to-back possessions to extend the Roughriders' lead to 14-8 entering the second quarter.
That would be the theme for the rest of the game until the Rangers' late flurry of treys. Every time the Rangers nudged their way closer, St. Marys answered with a solid defensive play or a big shot.
Hegemier, the 44th boys head coach in Ohio to reach the 500-win plateau, acknowledged relief to earn the milestone win.
"I just wanted to get it over with," said Hegemier, who has a combined career mark of 500-230 with stops at Waynesfield-Goshen, Spencerville, Fort Loramie and New Knoxville before landing in St. Marys. "I thought we had it a couple times earlier, but we just didn't hold on."
New Knoxville did not let the milestone pass without a tribute, presenting Hegemier with a plaque honoring the occasion. Hegemier was then handed a microphone and he thanked the fans.
New Knoxville head coach Kort Fledderjohann, who was a Hegemier assistant before taking over the Rangers' program five years ago, was quick to pay tribute to his mentor.
"I would like to congratulate coach Hegemier on his 500th win," said Fledderjohann. "I've got a lot of respect for Dan. In the five years he was here, I learned a lot from him. He really had his guys ready to play tonight."
St. Marys is back in action again tonight as the Roughriders host Indian Lake. New Knoxville makes the trek to Allen County tonight to face Spencerville.