Saturday, January 4th, 2014
Region braces for extreme cold
By Doug Drexler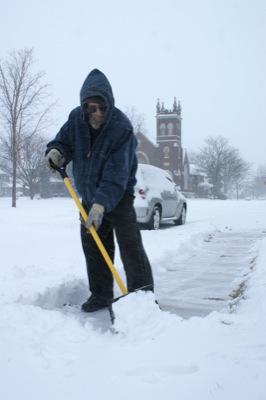 With bone-chilling temperatures forecast for early next week, now is the time to prepare for the frigid conditions.
The local area will experience the coldest temperatures in 20 years on Monday night, according to the National Weather Service. The temperature will fall to 3 below zero Sunday night - and after rising to about 2 degrees Monday - will drop back to a brutal 14 below zero in the evening.
A high of only 1 degree is predicted for Tuesday with a low of 5 below zero overnight. Temperatures will warm up a bit Wednesday with a high of 15, the weather service predicts.
Bitterly cold temperatures are dangerous and experts advise people to stay inside.
"Don't be outside in it if you don't need to be," said Mike Robbins, director of the Mercer County Emergency Management Agency.
He also encouraged people to keep an eye on their neighbors and the elderly.
Celina schools superintendent Jesse Steiner advises parents to check with local media to ensure schools are open before sending children to a bus stop or school. He also asks parents to have children dressed appropriately for the weather.
District personnel will start checking weather conditions Sunday night and be up at 5 a.m. Monday to be sure it is safe to open the school, he said. School officials share information on road conditions to make sure buses can travel safely, Steiner added.
Home safety
Preventative measures should be taken to prepare the inside of homes, Jeff Larmore of Lake Contracting in Celina said. He suggests turning up the thermostat and opening cabinet doors where pipes are housed to ensure they do not freeze. He recommends closing vents around the base of the house that let hot air out in the summer; those vents let in cold air that can freeze pipes. Homeowners can cover the vents with plastic foam for added insulation, he noted.
Most wintertime calls for service involve frozen pipes, Larmore said.
"If it gets below zero you need to keep the hot and cold water running," he said. "When you wake up in the morning and it's 10 below, then it's too late."
Larmore said furnaces should have clean filters since clogs can lead to overheating and cause a shutdown. He also recommends testing generators before bad weather strikes.
"Make sure you keep it outside," Larmore said, adding generators create a carbon monoxide danger if they operate inside a home or garage.
Symptoms of carbon monoxide poisoning include headaches, nausea and disorientation, according to the Center for Disease Control and Prevention. Carbon monoxide detectors are available for the home. If an alarm goes off or symptoms are noted, leave the home immediately and call 911, CDC states.
The State Fire Marshal's Office suggests close monitoring of kerosene and space heaters and recommends following manufacturer's instructions. All combustible material should be at least 3 feet away. Ensure heaters have tip switches that automatically turn them off if tipped over, the state fire marshal advises.
Motorist safety
A good battery is vital in the winter because it must be fully charged to start a car in the cold, Kimberly Schwind of the Ohio Auto Club said. Batteries more than 3 years old should be tested regularly, she said.
Drivers should also keep an eye on tire pressure because a tire can lose one pound of pressure for every 10 degrees below 32, she explained.
"You definitely need to check your tires to be sure they have enough pressure and tread depth," she said.
It is also important to switch washer fluid over to a winter mix tested to 20 below or colder, Schwind said. Drivers should check the fluid if they have not changed it since summer, she added.
Schwind suggests using a penetrating oil such as WD-40 to keep vehicle locks free from freeze-ups. Motorists also should keep an emergency kit in their vehicle with blankets, warm clothes, food, water, shovel, safety flares or reflectors, sand or cat litter, a first-aid kit, batteries and a cellphone and chargers. AAA suggests keeping at least a half tank of gas in every vehicle to keep the fuel line from freezing, and to ensure the car continues running and providing heat if drivers need to wait for tow trucks or emergency vehicles.
The CDC warns the public to avoid traveling when the weather service issues severe weather advisories. Those who must travel should inform someone of their planned route and expected arrival time, the CDC states. People who become stranded should stay with their vehicle unless shelter is less than 100 yards away, it notes.
The CDC also suggests that stranded motorists stay visible by putting bright cloths on the vehicle's antenna, turning on the inside light when the engine is running and raising the hood when the snow stops. The engine and heater should be run only 10 minutes per hour, and the CDC recommends keeping a downwind window open with the tailpipe unblocked.
Pet care
Pet owners need to take sensible steps to protect their animals in the freezing weather, Teresa Dorsten of the Celina Animal Hospital said.
"People need to use common sense. If you're not going to be outside, don't leave your pet outside," she said.
If pets need to go outside - especially older pets - bring them in as soon as possible, she said. Even outside pets need some shelter in extreme cold, Dorsten noted. If they cannot be brought into the house, they should be kept in a garage or similar structure for protection, she added.
Dorsten also reminded pet owners to make sure water is available and isn't frozen.
More cold weather tips
• Have food on hand that does not require cooking or refrigeration in case electricity isn't available, and store extra water in clean containers.
• Keep an up-to-date emergency kit including battery-operated flashlights, weather radio and lamps, extra batteries, a first-aid kit and extra medicine, baby items and cat litter or sand for icy walkways.
• When going outdoors, wear layers of light, warm clothing, mittens, hats, scarves and waterproof boots and carry a charged cellphone. Don't go out alone, if possible.
• Get medical care if frostbite is suspected. Symptoms include white or grayish-yellow skin, skin that feels unusually firm or waxy and numb. Call a doctor or seek medical care.
Hypothermia can occur when the body's temperature drops below 95 degrees. Early symptoms include shivering, feeling tired, being clumsy and confused. As the body loses more heat, shivering may stop, skin may turn blue, pupils may expand, pulse and breathing may slow and the victim may pass out. Seek medical care as soon as possible.