Monday, January 6th, 2014
Wintry blast of snow, cold hits area
Schools, public offices closed, driving treacherous
By Shelley Grieshop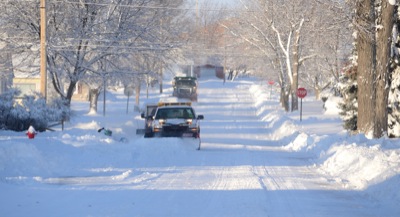 CELINA - Drifting snow and below-zero temperatures will grip the Grand Lake area and produce hazardous conditions through Tuesday.
Snowfall totals Sunday ranged from about 6 inches in Celina to nearly a foot in some areas depending on how early the snow began to fall. Many rural roads were impassible this morning with drifts up to four feet high, road crews reported.
The arrival overnight of Arctic air has emergency agencies more concerned than the snow does. If drivers get stuck, the cold weather could be life-threatening, according to Mercer County 911 Coordinator Monte Diegel.
"We'll be telling people all day to stay inside if they don't have to go out," he said. 
Local weather forecaster Dennis Howick said today's high was set prior to 8 a.m. at 6 below zero; the overnight low is expected to be 17 below. Tuesday's high is expected to be 5 below, he added.
With sustained wind speeds today of 20 to 35 mph, windchills will be brutal, Howick noted.
"The windchill today and tomorrow should be 35 to 40 below," he said. "We'll start coming around on Wednesday with temperatures of 15 to 20."
A windchill warning is in effect until 5 p.m. Tuesday. Only a few flurries are expected but no real accumulation is forecast the rest of the week, Howick said.
Due to potentially record-breaking temperatures, Dominion East Ohio announced that large industrial and commercial customers may experience natural gas interruptions today and Tuesday. The action is being taken to ensure natural gas is available for residential customers, spokeswoman Peggy Ehora of Dominion noted.
Only a few minor electric outages in the St. Marys area were reported as of press time today.
Sunday's snowfall prompted Mercer County Sheriff Jeff Grey to issue a level 3 snow emergency at 10 p.m. It notes that roads are closed except to emergency personnel. All others are subject to arrest. Residents are asked to contact their employers before reporting to work.
"Sheriff's office cruisers will not respond to stranded motorist calls unless there is a life-threatening emergency," Grey noted.
County commissioners declared the county closed until at least noon today. All area schools were canceled today with several districts using up the last of their state-allowed calamity days. Students in many districts will make up at least some of the missed classes via a new online assignment program.
EMA officials in Mercer and Auglaize counties this morning said numerous vehicle slide-offs were reported in the last 24 hours, but no serious injuries had occurred. One snow-related accident on state Route 119 near St. Henry resulted in a minor injury and a jack-knifed semi was noted on state Route 29 between Celina and St. Marys. 
Some roads this morning were "like a solid sheet of ice" causing vehicles to slow to about 20 mph, Diegel said.
"We still have some secondary roads that are impassable," he said.
Diegel advises residents to sign up for Nixle, a program that sends all emergency information such as road conditions to a person's cellphone or email. To sign up, residents can text their zip code to 888777 or go to the sheriff's website for additional instructions.
Brad Laffin, highway superintendent for the Mercer County Garage, said his whole fleet of 12 snowplows was out from 1 p.m. Sunday until midnight.
"We kept three out through the night to help with emergency runs and got the full crew back on the road this morning at 6," he said. "They'll probably be working a 16-hour shift."
Laffin said the next couple of days will be "hectic." The snow and bitter cold weather combination had not occurred for more than 10 years, he said.
Howick said the last time temperatures dropped this low was in December 1983.
"It was Christmas Eve and Christmas Day in '83. It was just like this. We had 19 below and 20 below on those days," he said.
Many people on Facebook on Sunday compared the current weather conditions to the Blizzard of '78. Most of those old enough to experience the horrific 1978 storm - such as Diegel - said this storm does not come close.
"No, this certainly doesn't match 'the Blizzard,' " he added.