Monday, January 6th, 2014
WaterDogs sweep area swim and dive meet
By Gary R. Rasberry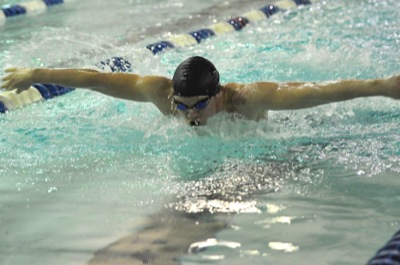 GRAND LAKE - Celina got the 2014 portion of the swimming and diving schedule off to a good start in sweeping a triangular meet with Grand Lake rivals St. Marys and Coldwater on Senior Night at the Auglaize-Mercer Family YMCA Saturday.
The WaterDogs outdueled the Roughriders 150-102 in the girls' races with the Celina boys staying unbeaten this season with a 157-92 win over St. Marys. Coldwater tallied 64 points in the girls and 50 points in the boys.
Celina tallied up the points to pick up the wins, going 1-2 in four events each, countering solid efforts by the other two teams.
Leading the way for the WaterDog boys were Tyus Temple, who took home firsts in the 200 and 50-yard freestyle races, while Jared Fleagle added wins in the Individual Medley and 100 breaststroke.
The Celina boys swept all three relays and got individual wins from Hagan Kriegel in the 500 freestyle.
For the Swimmin' Women of Celina, Michaela Wenning took the 100 backstroke with Alli Darras winning the 100 breaststroke. Cami Dzendzel Megan Muhlenkamp added a win in the 500 freestyle while the 200 and 400 freestyle relays came through.
Celina coach Matt May was pleased with the work on the day.
"We threw some kids around and put them in off-events (events not usually competed in) and mixed-and-matched some relays to see what they can do," said May "Lot of times we do that to get them over brick walls and help them realize they're getting faster in other events and not over-concentrate in their A-events. Felt like we had a good meet.
"Some of our beginners are starting to come around. We got some big drops out guys like Austin Haines (who swam a leg of the winning 200 free relay). He had a phenomenal tonight."
St. Marys posted its fair share of the wins on the night. Jared Deubler picked up wins in the 100 freestyle and 100 backstroke while Dakota Braun added the 100 butterfly to the total. For the Lady Roughriders, Molly Menker scored a pair of wins in the 100 and 200 freestyle while Sierra Braun added wins in the Individual Medley and 100 butterfly. Madison Taylor picked up the win in the diving competition and the Roughriders got the win in the 200 medley relay.
"We swam well at the (Lima) Holiday Invitational last week. This week we were a little off after not practicing on New Year's," said St. Marys coach Amy Wenning. "We only practiced twice this week. We did have some good times. Our 500 times (Where St. Marys had third place finishes in each race) were a big improvement. In general, we still have a lot to improve."
Coldwater picked up one win on the day with Caleb Keck winning the diving by a large margin over runner-up Jake Browder of Celina.
"We had some good times. This meet we switched up a lot to get some different times for some of our swimmers," said AquaCavs coach Janel Miller. "Some of our swimmers were in some unusual events to get some times before sectionals and districts and see how we do.
"It was exciting to have my divers here and have the swimmers here to watch and cheer them on versus a lot the meets where we don't get to see them. That was nice."
The Celina Y will play host to the annual Celina-Wapak Invitational with St. Marys and Coldwater taking part this Saturday at 1 p.m.
Before Saturday, Celina travels to Jay County on Thursday while St. Marys has tri-meets on Thursday at Kenton and on Thursday with WBL rivals Van Wert and Ottawa-Glandorf. Coldwater is off until Saturday.