Friday, January 17th, 2014
Looming expenses trigger boost
Commissioners OK more funds for courts, other areas in budget
By Shelley Grieshop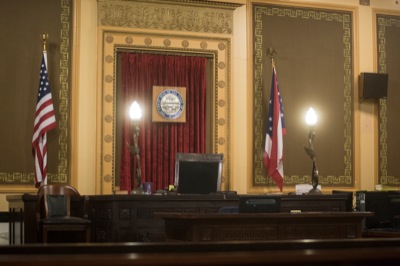 CELINA - A new computer system, employee raises and rising court costs are some of the expenses prompting an 8.1 percent increase in this year's county budget, according to commissioners.
Mercer County Commissioners on Thursday approved the $10.4 million general fund budget for 2014, $787,375 more than appropriations in 2013.
Expected spending this year increased substantially in several areas such as the courts, where a staggering number of indigent cases continue to fill the docket. Counties are mandated to pay for attorneys and expenses such as expert witnesses, psychologists and investigators when defendants claim indigence.
The budgets this year for the public defender, common pleas, juvenile and probate courts, as well as jury commission increased from 3.5 to 20 percent. The prosecutor's budget climbed 8.46 percent, mainly due to the addition of new assistant prosecutor Joshua Muhlenkamp.
The county currently is paying attorney representation for two indigent suspects charged in the murders of Robert and Colleen Grube in their Fort Recovery home in November 2011. Each suspect has two attorneys and officials estimate the final cost for the cases to exceed several hundred thousand dollars.
A majority of the indigent criminal cases filling the courts are drug-related, county auditor Randy Grapner said.
"And we as a government have to expend for it. It's a severe problem everywhere," he added.
The budget of the county's data processing department in 2014 increased 70 percent - the highest of all agencies - so it can pay the first of three annual installments of a countywide $175,000 computer and software upgrade.
"We have a lot of equipment failing," Grapner said, explaining 77 county computers will be considered obsolete by Microsoft in March.
Other notable budget increases include 35 percent for the county recorder's office where a new employee was added to the staff, and 24.5 percent for the veterans' office to replace a van. Appropriations increased 20 percent for the community development office but the amount - $25,000 - is solely being used to operate the Hometown Opportunity program that promotes jobs in the area.
The sheriff's office and central dispatch incurred appropriation increases of 13.3 and 9.58 percent, respectively; the adjustments will pay for an additional deputy and wage increases implemented following salary reviews by a hired consultant, Laffin said.
The jail's annual budget has remained $765,000 since 2010.
Grapner said each agency has cut "everywhere they could" in recent years.
"We're not 'fat' over here in our county government. I'm proud to say that," he said. "We're doing so much more with less."
His biggest concern now is replacing the annual local government funds the state removed the past few years to balance its budget, he said. The first cut in 2011 was $1 million, he added.
"We've been solving the state's problems on the back of local municipalities," Grapner said.
The county has few options to stay fiscally sound as more local taxpayer dollars go to the state and federal government instead of staying local, he said.
"If we want to continue providing the same services we've always had, we'll have to come back to the local taxpayers for additional operating expenses," he said.
The county carried $2.7 million into 2014 - up from $2.1 million in 2013. Revenues last year exceeded expenditures by $377,247. Officials credit a 6.9 percent increase in sales tax collections last year - the third-straight record-breaking year for the county.
"I think right now we're pretty stable," commissioner Jerry Laffin said.
All three commissioners agreed department heads and staff helped by tightening their coffers.
"I've been here just one year but I think our employees work very well together and they are conservative ... I can truly see their dedication," commissioner Rick Muhlenkamp said.
Commissioners chose to reward employees for their frugality by appropriating this year a 1.5 percent bonus for each department for raises or other needs. The amount is based on the recent cost of living adjustment to Social Security benefits.
"Each appointing authority will have the discretionary judgment to distribute this increase based on their employee's performance and/or other needs of their agency," commissioners and Grapner stated in a letter Thursday to all departments.
Commissioners said overall finances are good. Interest on the money invested by the county is finally increasing, commissioner John Bruns noted. They also expressed pleasure with the number of new businesses moving into the area such as Ferguson Enterprises, a plumbing supply company building a distribution center east of Celina, and Perham Egg, an egg-cracking business moving into a vacant industrial building in Fort Recovery.
Bruns, who resides in the Marion Community, said the Marion Township industrial park continues to expand along with others in various communities.
"We've been hearing pretty decent news and no one's talking layoffs," Laffin said. "That's pretty good."

Clarification:
The recorder's office general fund budget is up 8 percent when appropriations for microfilming are included. The increase represents a part-time position replaced by a full-time position.