Friday, January 17th, 2014
Minster dominates the boards to blow out New Bremen
By Bruce Monnin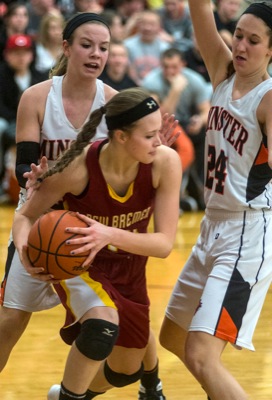 MINSTER - The Minster Wildcats jumped out to an early 6-0 lead and held a 42-21 advantage in rebounds en route to a convincing 56-25 victory over rival New Bremen in Midwest Athletic Conference action on Thursday night.
"I though we crashed the offensive boards pretty well. I'll take our 16 offensive rebounds," stated Minster coach Nann Stechschulte. "I really stress the fact that we need to become a better rebounding team. I thought today we were doing a better job boxing out and on the offensive end we were crashing the boards better."
Minster (11-2, 5-1 MAC) used that rebounding advantage to take 61 shot attempts, while limiting New Bremen (7-7, 1-3 MAC) to only 31 shots. The Wildcats made 24 field goals and shot 39 percent from the floor while the Cardinals managed to make just eight baskets and shot 26 percent.
Minster grabbed an early lead and it continued to grow throughout the game. With four minutes to play in the first half, the Wildcat were leading 19-10, but an 11-2 run before halftime expanded their advantage to 30-12 at the break.
Alexis Wuebker and Claire Fischer led the way for Minster in the first half with 11 and eight points, respectively.
New Bremen found an offensive spark in the third quarter by getting the ball in the post to freshman Rosie Westerbeck, who made two baskets and converted five out of six second-half attempts from the free-throw line as part of her 11 points for the game.
Minster countered down low throughout the second half with junior Alicia Arling, who made four of her five shots and scored a total of 11 points.
"Alicia Arling had a very good second half," complimented Stechschulte. "I was tickled to death with her game. Her teammates got it to her for a couple of assists, but some of those she just earned herself with good hustle."
The Wildcats were able to push their lead to 45-20 by the end of the third quarter and then outscored the Cardinals 11-5 in the final quarter to earn a 31-point win.
The Wildcats are back in action again on Saturday, hosting Ottoville. The Cardinals are also in action on Saturday, on the road against Upper Scioto Valley.