Saturday, January 25th, 2014
Red-hot Bulldogs defeat 'Riders
Eighth straight win for Celina over St. Marys
By Ryan Hines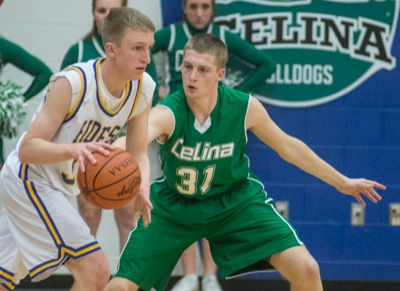 ST. MARYS - The hoop must have seemed like it was as big as Grand Lake for Celina's boys basketball team on Friday night.
Celina shot 66 percent from the field and rolled to a 62-40 victory over rival St. Marys during Western Buckeye League action at Murotech Court.
It's the eighth straight win for Celina (10-3, 4-1 WBL) against their cross-lake rivals.
"I think that our guys get fired up for this game every year because it's St. Marys and it's our biggest rival," said Celina head coach Chris Bihn.
Quinn Zaerr made a nice post move and then hit a three-pointer to give St. Marys an early 5-2 lead after the first minute of the game, but the rest of the first quarter belonged to Celina.
Logan Delong scored in the paint and Ryan Hoyng hit a 15-foot jumper before Mason Ross made a nice post move for a deuce that gave Celina an 8-5 advantage.
After Marquis Wilson hit a mid-range jumper for the Roughriders, Celina's pressure defense forced three straight St. Marys turnovers that resulted in seven straight Celina points.
"We are our own worst enemy. How many passes did we throw right into their hands that they would beat us down the floor for a layup," said St. Marys head coach Dan Hegemier. "You just can't do that against a good team. We just shot ourselves in the foot."
Celina made its first seven shots from the field and finished the first quarter 8-of-9 from the floor to grab a 17-10 lead. Delong scored eight points in the first quarter.
"They came out shooting the ball well," said Hegemier. "They run a good halfcourt (offense) and they had open looks. When you face a team as talented as they are, you can't give them easy looks."
The Bulldogs continued their red-hot shooting in the second quarter as Ross scored in the post before Ryan Hoyng scored four straight points to give Celina a 23-10 lead.
Celina made 7-of-9 from the field in the second quarter and finished the first half 15-of-18 (83 percent) while taking a 35-25 lead into halftime.
St. Marys stayed within striking distance throughout the first half by make 5-of-9 from three-point range, including two by Derek Jay. Celina made a more concerted effort to limit St. Marys' open looks from three-point range in the second half as the Roughriders were just 1-of-9 from long distance.
"We wanted to hold Zaerr in check without double-teaming them because they have good shooters and we didn't want to give them open looks on the perimeter. I thought we did a good job of those two things tonight, especially in the second half," said Bihn.
The Roughriders struggled offensively throughout the second half, scoring just 15 points on 5-of-20 shooting.
Celina's shooting tailed off slightly in the second half but the Bulldogs consistently hurt the Roughriders in the paint with Delong, Ross, Grant Laffin and Caleb Hoyng. Celina's quartet of big men combined to score 38 points.
"We had a couple of different mismatches with our guys in the post and we wanted to go to that as much as possible tonight," said Bihn. "We were patient in our halfcourt offense and got the ball inside. We had six or seven guys that we had post up tonight and our guys did a good job of reading that."
Hegemier was disappointed in the Roughriders' defense in the post.
"I knew they would do a great job of attacking the post. We watched tape on it and we just didn't go out and do anything to stop it," said Hegemier.
St. Marys never got closer than 11 points in the second half.
Celina finished the game 27-of-41 from the field (66 percent).
Bihn credited precision passing with Celina's successful shooting display.
"When we got the ball into the post, we tell our post guys to find the defense and then we sent guys to the rim when they would try to double-team us down there," said Bihn. "I don't know how many assists we had tonight, but I would bet we had assists on 70 percent of our baskets tonight. If we can catch the pass with our hips square and our shoulders square to the basket, we can shoot the ball pretty well."
Ryan Hoyng led Celina's balanced scoring attack with 14 points and Caleb Hoyng added 13 while Delong contributed 11 points.
Wilson led St. Marys with 13 points while Zaerr added 10.
Celina is back in action tonight with the state's top-ranked team, Crestview, visiting the Fieldhouse. St. Marys is on the road at Sidney tonight.