Wednesday, January 29th, 2014
Redskins shave their heads to support coach's family
By Gary R. Rasberry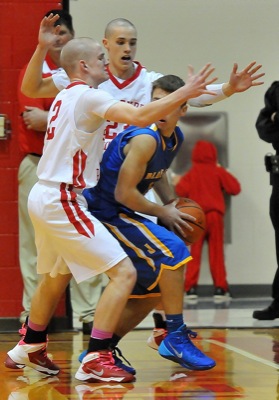 Athletic teams display unity in many different ways and specific traditions and superstitions are nothing new.
St. Henry's boys basketball team, though, took unity to the most visible level, shaving their heads to share a bond with one of their coaches and his family.
The move was made after the team was told that Heather Cramer, wife of Redskins' varsity assistant coach Chad Cramer, had been diagnosed with breast cancer.
Early last week, coach Cramer came to practice with a freshly shaven head, which he did to alleviate their children's fears of Heather losing her hair due to chemotherapy.
Several players, including seniors Tyler Schwieterman and Jason Jacobs, discussed with the rest of the team to follow coach Cramer's lead.
"Coach Cramer came in with a shaved head, and we wanted to help out," said Schwieterman.
"Everyone was really into it," continued Schwieterman. "One person did it, then everyone else - seniors right down to freshmen - wanted to do it."
"I said nothing," noted St. Henry head coach Eric Rosenbeck. "When coach Cramer came in with his head buzzed, then later every guy in the program had their head buzzed."
It wasn't just Cramer and the players doing the shearing.
"I said 'Well, I guess I better join in, too,' " said Rosenbeck, who also serves as high school principal at St. Henry.
When Heather found out from Chad via text what the team had done, there was plenty of emotions.
"I immediately started crying," said Heather Cramer. "You hear so much bad about kids in the world. It's so nice to see them do something so supportive and caring so much about me and my family."
The hair shaving was just the beginning; the players spread the word around the school that last Friday's game against Delphos St. John's should be a "Pink Out", where the students would wear pink, the awareness color for breast cancer.
The timing wasn't a coincidence, as Heather Cramer would be attending the game that night.
"She hadn't been to a game all year," said Jacobs. "We thought it would be a good idea to a have a Pink-Out to show respect to her and the family.
"They said she got a little emotional when she saw the (students sporting) pink," said Jacobs.
"Jason's mom is my kids' babysitter," said Heather. "She actually came and picked me and my oldest son up and took us to the game. We got to the game, sat in our seats and saw all the kids, even some of the adults in the crowd and mothers of the players. It was so nice to see (so) much support. Cheerleaders were painting pink ribbons on faces. It was just very overwhelming."
Whether this act of unity will be a one-time thing or will continue through the season is up in the air.
"We haven't really talked about it," said Jacobs. "We talked about maybe doing it again in a couple weeks after our hair grows out just to keep it going."
Rosenbeck is proud of the team's gesture to keep the Cramer's family in their thoughts. Although St. Henry lost to St. John's, the gesture makes Rosenbeck proud of his team.
"I think it's fantastic," said Rosenbeck. "It shows the closeness we want to have in our program. It shows the respect that our players have for coach Cramer, his family and what they're going through. We have a very resilient group and they're going to keep fighting for themselves and for coach Cramer's wife. I'm just proud of them to take (the task) up on their own."