Wednesday, February 5th, 2014
Inmate-checking system coming to Mercer County jail
Equipment costs about $12,000
By Shelley Grieshop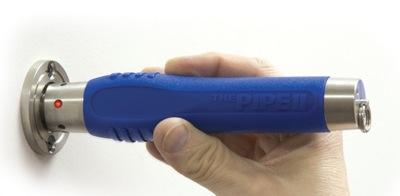 CELINA - The county jail staff soon will be armed with a new tool when making rounds to check inmates.
The Pipe is a hand-held device that reads metal touch memory buttons/discs placed on or near cell doors to document welfare checks on inmates.
"What we do now is very labor intensive," Mercer County Sheriff Jeff Grey said.
The jail staff currently must type into a computer the date, time, officer's name and other information related to each welfare check on every inmate, he said. The state recommends inmates be monitored in person at least once each hour or more often if suicidal or behavior issues exist, Grey said.
The information collected and stored in the water- and tamper-resistant Pipe, powered by lithium batteries, is later downloaded onto the corrections' computer.
"We can run a report on the information and find out if a cell wasn't checked on enough and take steps to correct the situation," Grey said. "I think it will get us better records."
The sheriff's office will receive 96 buttons/discs to mount in various locations such as directly outside lockdown cells, near inmate dorms and outside the jail building, Grey said. Each button has its own unique identification number.
Grey said the equipment could be an asset and prevent liability in some situations. If an inmate becomes violent and/or harms him- or herself or others, the corrections' staff has documentation to prove welfare checks were completed.
The corrections area also is monitored by surveillance cameras as a back-up, he added.
The sheriff employs 15 people in the corrections department and never has fewer than three employees on duty, he said.
Mercer County Commissioners - with the blessing of the Data Processing Board - on Tuesday approved the purchase of the Pipe for $11,726 from TimeKeeping Systems Inc. of Solon. The contract includes training, multiple viewing stations, extra equipment and a five-year warranty.
Commissioners also approved the purchase of a coordinated server for $603 from CDW-G, based in Vernon Hills, Ill.
Both purchases will be paid with commissary funds - money inmates pay to buy snacks and personal items sold at the jail.
Grey said he hopes to have the new system operating in about a month.