Saturday, February 8th, 2014
Students display smarts at STEM Fair
By William Kincaid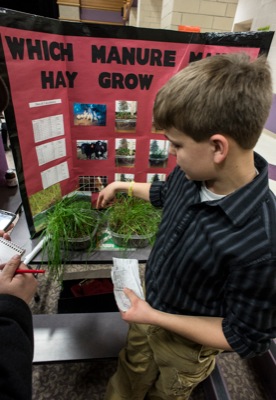 FORT RECOVERY - When it comes to loosening bolts or ridding door hinges of their incessant squeaks, eighth-graders Joey O'Connor and Austin Timmerman recommend WD-40.
The recommendation came from applying the scientific method to comparing the effectiveness of two brands of lubricant as part of the seventh annual Science, Technology, Engineering and Mathematics Fair at the middle school Friday.
Sixth-graders focused on demonstrating the scientific method, seventh-graders experimented with products or inventions related to an environmental issue and eighth-graders evaluated consumer products.
The STEM initiative and its hands-on teaching and learning has been a part of Fort Recovery Local Schools curriculum for several years.
"It's kind of their initiation to the scientific method. That's when we hit it really hard, and that's where it all starts, and we do kind of want some independent thinking," science teacher Crystal Fullenkamp said. "The seventh-grade topic to me is one of the most difficult just because it's research based."
Visiting judges, including regional business representatives, evaluated the projects, which constitute a major part of the students' grade for the third nine weeks.
Sixth-grader Morgan Alt brought in her test subjects, two dogs, to make her presentation.
"I built this maze with my dad, and I just wanted to see if a Maltese or Shih Tzu could find its way through a maze faster," she said.
After 12 tests, the Maltese emerged the victor. Alt chalks it up to temperament, not necessarily breed.
"I think it's just how they act because this one is a lot more calmer, and this one's really hyper and curious," she said.
Sixth-grader Evan Westgerdes participated in his first STEM Fair Friday, too, proudly displaying the results of his manure study.
Westgerdes administered half cups of chicken, horse and steer manure to three samples of grass to see which fertilizer performed best.
"I thought chicken manure would work best because I heard from other people that it works well," he said, pointing out his grandpa owns a chicken farm.
He was right. The chicken manure facilitated the most robust growth of the three grass samples.
Visiting judge Todd Post of Cooper Farms said he was impressed with many of the projects, pointing out one group of students contacted the manufacturers of the batteries they tested.
Brian DeLucenay, a process engineer at Fort Recovery Industries was likewise impressed.
"I'm impressed with the ways they've been able to organize themselves and their testing methods," he said.
He also thinks the school is doing a good thing by making the students present their findings to an audience.
Regardless of what engineering field students may eventually enter, they'll need to posses sharp communication skills to submit proposals successfully to their bosses, he said.
"When I was growing up, we didn't have that type of thing," he said about STEM. "It would have been very beneficial at that time."
Fullenkamp said the quality of projects improves each year, and the program seems to have a positive impact.
"We have a lot more graduating from high school with set goals and majors in the engineering/medical field," she said.