Saturday, February 8th, 2014
Wildcats push past Cavs in the fourth
By Bruce Monnin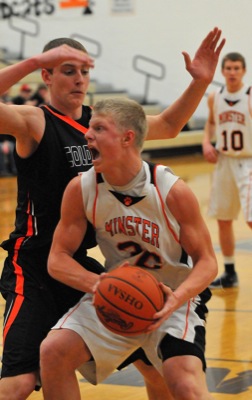 MINSTER - Most of Friday night's game between Minster and visiting Coldwater was tight with the Wildcats mostly holding a small lead.
Then the Wildcats were able to hit a couple of outside shots and make some free throws to begin the fourth quarter, opening up a lead they would hold until the scoreboard read 58-50 in their favor as the clock expired.
"It's just good to get back on track. It's tough in this league every Friday," said Minster coach Mike Lee. "We're trying to take the approach that we need to get this thing turned around, and I saw some glimmers of hope here this evening."
Minster (6-12, 2-5 MAC) was ahead by just two points at 37-35 as the final period got underway before Jacob Stechschulte made a three-pointer for his first score of the night, followed a minute later by another trey by Brandon Hoying.
"Shooting beyond the (three-point) arc has not been a thing of beauty for most of the season, but we tried to stress going inside/outside. If the kids have their feet set, they pretty much have the green light," said Lee. "There were two or three possessions where we were able to get our feet set and knock down big shots."
At the 4:50 mark Hoying made Minster's first free throw of the game and then followed up with three more from the charity stripe. Another Stechschulte basket increased the Wildcats' lead to 49-38.
Minster then iced the game by making 9-of-15 free throws in the final two minutes of play.
The Wildcats led the entire first quarter, a back-and-forth affair that ended with Minster holding a 13-12 edge. Coldwater's offense got on track early in the second quarter to take a four-point advantage, but Minster rallied to retake the halftime lead at 26-22.
Minster's Matthew Trushaw was the leading scorer for the opening half, with eight points as well as leading all rebounders with seven. Brody Hoying topped both categories for the Cavaliers (6-9, 2-4 MAC), posting seven points and five boards.
Late in the third quarter, a Brandon Wolters three-pointer gave Coldwater its last lead of the game at 33-32. It lasted 16 seconds before Josh Nixon answered with a long ball of his own put the Wildcats back out in front for good.
Trushaw and Hoying combined to shoot 10-of-12 from the free-throw line and each finished with 16 points to lead Minster, while Trushaw added a game-high 12 rebounds.
Brody Hoying ended the game with 19 points and nine rebounds for the Cavaliers, while Aaron Harlmert and Andy Brunet each scored 10 points and grabbed seven boards apiece.
The Wildcats return to action tonight when they host the St. Marys Roughriders while Coldwater makes the short trek to Celina tonight.