Saturday, February 22nd, 2014
Marion Local claims outright MAC crown
By Gary R. Rasberry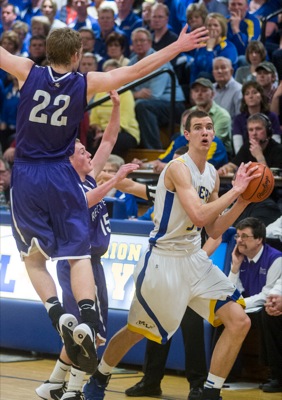 MARIA STEIN - For Fort Recovery, it was a matter of picking a poison while facing Marion Local.
When the Indians packed their defense in the paint to counter the Flyers' size advantage, they had to deal with the potential of Marion Local's perimeter threats.
That was the poison that stung the Indians early as three-pointers for the Flyers opened the paint and Marion Local claimed the outright Midwest Athletic Conference title with a 74-59 win at the sold-out Hangar.
Marion Local won its first conference crown since 2003 - and first outright title since 2001 - while capping the regular season with an overall record of 17-4 (8-1 MAC). Fort Recovery, which failed for the second straight week to clinch the MAC championship, ends the regular season at 15-6 (7-2 MAC).
"It's been a great senior year," said Troy Homan, who was also a key cog on the Flyers' MAC and state title football team. "Two MAC championships. Couldn't ask for anything better. To do it for the first time since '03 is great. Gives people a reason to be excited about Marion Local in basketball again."
"We lost to a good team tonight that played well at their place," said Indians coach Brian Patch. "I thought our kids had a gutsy effort and gutted it out."
Fort Recovery played a zone defense early in the game, trying to control the inside play of 6-7 Ryan Bruns, 6-6 Adam Bertke and 6-10 Luke Knapke, who and played with a broken finger. The Flyers' post trio combined for two points in the first quarter but that left the outside open, though, and the Flyers took advantage. Dustin Rethman and Troy Homan hit three-pointers in the first quarter that sparked Marion Local to a 13-6 lead.
Fort Recovery, though, quickly pulled to within 13-11 at the end of the first quarter after Elijah Kahlig and Ben Dilworth hit some shots.
"Generally speaking, it was great to get out to a good start knocking down shots," said Flyers coach Kurt Goettemoeller. "(Fort Recovery) had to pack it in on us and I think we're starting to come along offensively."
Marion Local tried pulling away again as Cole Griesdorn hit several big shots to push the Flyers in front 19-11. The Indians cut their deficit to 21-15 with five minutes left in the opening half, but Homan and Griesdorn buried back-to-back treys to help the Flyers build a 36-20 lead at halftime.
With the Indians forced to defend the perimeter, the inside game of the Flyers began to take control, thanks to Bruns and Knapke as Marion Local's lead ballooned to over 20 points several times in the second half.
"I thought that Ryan, even when he got into foul trouble, played well offensively," said Goettemoeller. "They didn't have a good matchup inside when we're shooting well from the perimeter and they come out on us. We can exploit that down low."
"As most games kind of go with our pressure wearing teams down, I think (Marion) did a little bit of the same thing tonight," said Patch. "They hit some shots outside, then in the second half we got out on their shooters a bit, they start going inside."
Kahlig, a candidate for MAC Player of the Year, did his best to keep the Indians in the game, scoring 12 points in the fourth quarter. Marion Local, however, went to the free-throw line often in the fourth quarter and hit 12-of-18 from the charity stripe.
"With Elijah and the kind of defense they play, they picked up the pressure," said Bertke, who scored just five points but pulled down 17 rebounds. "Elijah started making shots. We knew we couldn't rest on them."
The Flyers spread the wealth with the scoring. Bruns paced Marion Local with 16 points with Griesdorn scoring 15. Rethman added 14 with Homan coming off the bench with 11. Knapke looked sharp in scoring 11 points on 4-of-5 field-goal shooting.
Kahlig put on a show in his final MAC game, scoring 28 points, including 6-of-12 on three-point attempts.
"He's an amazing player," said Goettemoeller of Kahlig. "From what he sees night in and night out defensively with the onus on him and our size and attention on him, he still goes out and scores 28 points. He's a warrior. I have tremendous respect for him."
"I thought Pig had a big game tonight," said Patch, referring to Kahlig by his nickname. "He's hard to guard and they had trouble with him."
Kyle Schroer and Dilworth each added 10 points for the Indians.
While Fort Recovery is off until Feb. 28 as the top seed at the Division IV Coldwater sectional, the Flyers wrap up the regular season this afternoon against Shawnee with a noon jayvee tip.