Saturday, February 22nd, 2014
Elida rallies late to edge Celina
By Ryan Hines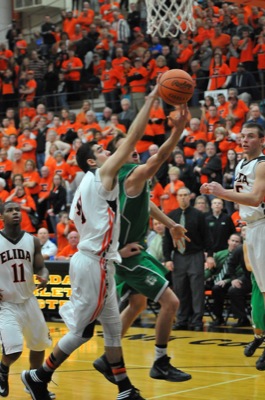 ELIDA - Leading by 14 points in the early stages of the fourth quarter, Celina's boys basketball team looked to be well on its way to winning a share of the Western Buckeye League championship.
Elida's Dakota Mathias and Louis Gray had other ideas.
Mathias scored 13 points in the fourth quarter and Gray buried a three-pointer with 4.6 seconds remaining in the game to lead Elida to a 61-60 come-from-behind victory over Celina at the Elida Fieldhouse. Elida claimed a share of its third straight WBL title (with Defiance).
"It's a disappointing loss. I thought we were sitting in a pretty good situation (with a 14-point lead in the fourth quarter). I feel bad for the kids. They played hard and it's tough to see a bunch of kids lose by one point, especially for the title," said Celina head coach Chris Bihn. "It's going to take some healing to get over this one."
Celina had a 46-37 advantage entering the fourth quarter before a free throw by Caleb Hoyng and back-to-back buckets from Grant Laffin and Ryan Hoyng pushed the lead to 51-37 with 6:04 on the clock.
Mathias had seen enough and started dialing long distance to ignite an Elida comeback. The Purdue-bound Mathias connected on back-to-back deep three-pointers to cut Celina's lead to 51-43. After two free throws by Ryan Hoyng and one more from Eric Moeder, Celina was back in front by 11 points before Elida rattled off an 11-0 run over the next two minutes to tie the score at 54-54 with 2:00 remaining in the game.
"I was watching a team that I hadn't seen all year long. We lacked spark, we lacked passion and we lacked energy. We just went flat. I think, as a group, they just decided that they didn't want to lose their last game on their home floor. The last six minutes was a whole different team than the first 10 minutes of the second half," said Elida head coach Denny Thompson. "They decided they weren't going to be denied and it worked out for us."
Ryan Hoyng put Celina back on top by two with a nice turnaround jump shot in the paint but Mathias drilled his fourth three-pointer of the fourth quarter to give Elida a 57-56 lead.
Two Ryan Hoyng free throws gave Celina a one-point lead before Mathias made one-of-two at the charity stripe to knot the score at 58-58 with 53.2 seconds on the clock.
Caleb Hoyng then hit a pair of free throws to give Celina its last lead of the game at 60-58 with just over 35 seconds remaining in the game.
With Celina's defense focused on Mathias, the Elida star passed the ball to Gray in the corner with just over 20 seconds on the clock and his three-pointer was off the mark. However, Marquevious Wilson chased down the offensive rebound for Elida and passed the ball to Mathias at the top of the key. Mathias then delivered another pass to Gray in the corner and his three-pointer hit the bottom of the net to give Elida a 61-60 lead with just 4.6 seconds on the clock.
"From where I was, which was right behind him, it looked good all the way for me when he shot it, but it looked good when he shot the previous one too. I have to give Louis credit for shooting it again after missing one," said Thompson. "Marquevious also deserves a lot of credit for getting that offensive rebound."
"We talked all week that they aren't a one-man show. Mathias does an awful lot for them but they have four other guys that can score for them. You have to defend them as a team and Louis Gray (15 points) is more than capable of coming up with a big shot. It doesn't surprise me that he took that shot and it didn't surprise me that he hit it," said Bihn.
Despite Gray's clutch shot, Celina still had time to win the game but had to travel the length of the floor to do so. Caleb Hoyng passed the ball to Ryan Hoyng, who dribbled down the floor and into the lane for a layup, which was blocked out of bounds by Mathias with 0.3 seconds remaining.
"Ryan got a good look at the basket and Dakota made a big play for us," said Thompson.
Ryan Hoyng then lobbed a pass to Caleb Hoyng on the inbounds pass and his shot rolled around before falling off the rim as the buzzer sounded.
Mathias proved once again why he is a lock to win his second straight WBL Player of the Year award after hitting six three-pointers and contributing 31 points to go along with 11 rebounds.
"I'm a defensive guy at heart but he (Mathias) was shooting from 30-35 feet away from the basket over the top of a defender with a hand in his face. You have to continue to make him try to beat you taking those shots," said Bihn.
Mathias scored 13 points in the fourth quarter to pull Elida out of a deep hole after Celina dominated play in the third quarter.
Elida was leading 24-22 at halftime, but Mason Ross scored all 11 of his points in the third quarter to help Celina outscore the home team 24-13.
"Their ability to go inside worried me the whole game. Mason got it right where he wanted it in the third quarter," said Thompson. "Then they had three beautiful transition baskets. They did exactly what I thought they could do during the third quarter and took it to us."
The game couldn't have started much worse for Celina as it missed its first 13 shots from the floor and trailed 15-2 in the early going.
"The biggest thing I was trying to do was keep them in low gear. You want to be fired up to play but I think we were antsy early in the game," said Bihn. "That was a problem in the first quarter."
Ryan Hoyng paced Celina with 18 points while Caleb Hoyng added 14 points and 11 rebounds.