Thursday, February 27th, 2014
Sanders pleads guilty in Grube murders
By Margie Wuebker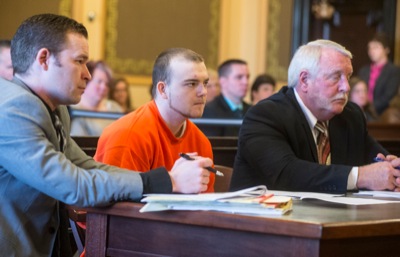 Trevin Sanders this morning pleaded guilty to charges stemming from the November 2011 murders of Fort Recovery residents Robert and Colleen Grube.
Sanders, 19, of Union City, in a court statement of facts admitted to shooting Colleen Grube multiple times. The guilty plea in Mercer County Common Pleas Court came in place of a hearing originally set to hear motions by Sanders' attorneys, Peter Van Arsdel and Richard Delzeith, who sought to suppress at trial statements their client had made to investigators and a request to move the proceeding from the local court due to publicity.
Sanders, who previously identified himself as Trevin Sanders-Roark, entered guilty pleas to two counts of aggravated murder with gun specifications, two counts of aggravated robbery and two counts of aggravated burglary.
Sentencing was set for 2 p.m. April 15, preceded by a 1 p.m. attorney conference.
As part of a negotiated agreement, the state dropped gun specifications in the aggravated robbery and aggravated burglary counts. County prosecutor Matt Fox also requested dismissal of all remaining charges and specifications contained in the 27-count indictment.
The state also agreed not to pursue charges stemming from a Feb. 6 incident at the Mercer County Detention Center in which Sanders allegedly crafted a shank from a plastic eating utensil and injured a corrections officer.
Sanders quietly answered "Yes, your honor" to a litany of questions posed by Judge Jeffrey Ingraham regarding his intention to waive his constitutional rights.
Crying could be heard in the courtroom as Fox read a statement of facts regarding the case.
A relative who went to the Grube home Nov. 30, 2011, to check why Colleen Grube had not shown up to babysit found the bodies at 8:57 a.m. and called 911.
Seventy-year-old Robert Grube and his 47-year-old daughter had been bound with duct tape and shot to death in the living room, according to sheriff's office reports. He was found in his wheelchair, and she was on a nearby sofa, the reports stated.
In the statement of facts, Sanders said he and co-defendant Bryant L. Rhoades went to the Grube's Burrville Road home along with several other suspects to burglarize the residence. The other alleged suspects - believed to be a man and a woman - have not been apprehended.
After reportedly smoking methamphetamine en route, the pair forcibly entered the home and applied duct tape to the residents so they could not flee, according to the statement of facts.
The victims reportedly were held at gunpoint while the suspects searched through both levels of the frame house.
Fox said Sanders test-fired a gun in the kitchen before going into the living room and firing several rounds into Colleen Grube. He then handed the gun to Rhoades who fired at Robert Grube, Fox said.
"They were killed to prevent a group of subjects from being identified," the prosecutor stated.
Sanders' mother, Tracey Riley, sobbed and leaned forward as Fox described the crime during the court proceeding. Three women accompanying her also cried quietly.
Grube family members, seated across the aisle, also sat quietly with heads bowed as they wiped away tears.
Ingraham asked the state to submit written briefs on the matter of merging sentences. The defense team has 10 days to respond.
Each of the aggravated murder charges carries the possibility of life in prison without parole, and each gun specification could add another three years to the term. Sanders faces a maximum of 11 years in prison on the remaining charges. The sentence could also include up to $90,000 in fines.
Sanders is not eligible for the death penalty because he was 17 at the time of the murders.
Rhoades, who is facing the death penalty, is still awaiting a decision following a February motion hearing. His attorneys also are seeking to suppress statements made to investigators.
Rhoades remains incarcerated on a $5 million bond.