Thursday, February 27th, 2014
Redskins practice patience in beating 'Cats, Coldwater falls to Van Wert in other semifinal
Division III Boys Basketball Sectional
By Gary R. Rasberry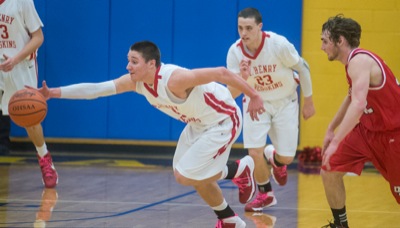 ST. MARYS - Patience has produced some excellent play of late from the St. Henry Redskins.
The Redskins opened Division III boys basketball sectional play with a dominating 50-32 win over Delphos Jefferson on Wednesday night at Murotech Court in St. Marys.
St. Henry (16-7), winners of eight straight games, plays Van Wert on Friday in the second sectional final starting around 8 p.m. The Cougars (11-12) defeated Coldwater for the second time this season by pulling away in the second half for the 54-38 victory.

ST. HENRY 50,
DELPHOS JEFFERSON 32
As has been the case since the New Bremen game, the Redskins started the game in the "Four Corners" offense, holding the ball and forcing the Wildcats to come out of their zone defense.
"We feel it calms our guys down," explained St. Henry coach Eric Rosenbeck of the set. "We have a great group of guys who are adrenaline-rushed. ... It gets them to the way they're supposed to play."
After about 90 seconds, the Redskins came out firing, hitting their first five shots of the game to lead 15-3 as Jefferson struggled against St. Henry's defensive pressure, turning over the ball on three of eight first quarter possessions.
"We did an excellent job of screening and moving the basketball to get some open looks," said Rosenbeck. "The guys knocked it down to give us a bit of a lead,"
Jefferson (14-9) got on a roll to start the second quarter. Sophomore Trey Smith hit all three of his shots in the quarter, including a three-pointer with 1:23 left to cap off an 11-0 run to get the Wildcats to within one at 21-20. Mitchel Stammen, who benefited from Jefferson's putting extra pressure on Ryan Mikesell, closed out the first half with a three-pointer to send St. Henry into the break up 24-20.
"(Jefferson) made a push back because they're an excellent team," said Rosenbeck. "Smith showed why he was first team District 8. It was the same type of game we had (last) Friday against Coldwater: low scoring in the first half."
The Redskins got the ball to start the third quarter and immediately went back to the Four Corners. This time, two minutes elapsed before Jefferson came out to defend. Just like the first half, St. Henry took advantage, going on a 9-2 run while the Wildcats were held scoreless for over four minutes. Evan Prenger, Tyler Schwieterman and Jason Jacobs provided the points to put St. Henry up 33-24 after three quarters.
From there, it was all St. Henry in the fourth quarter as Stammen hit a pair of threes and Mikesell added five points to pull away.
"When Mitchel does things fundamentally, he's an excellent player," said Rosenbeck. "He boxed out in a fundamental fashion. He took care of (the ball) in a fundamental fashion and knocked down some shots."
Stammen finished with 18 points to lead all players. Mikesell scored 10.
Smith led Jefferson with 17 points.
VAN WERT 54, COLDWATER 38
It wasn't quite like the first meeting earlier in February where the Cavaliers jumped out to a 16-2 lead before the Cougars took control for the two-point win, but the pace was slow early for both teams. Coldwater (10-12) gained some momentum in the second quarter as Andy Brunet put Coldwater ahead 11-10 early, then buckets by Brandon Wolters and Brody Hoying pushed the lead to 16-10 with 2 1/2 minutes left in the half. Van Wert's Connor Holliday, who was 4-of-4 from the field in the first half, kept the Cavaliers from pulling away with a three-pointer as Coldwater led 21-18 at the half.
"We've had those dry spells (all season)," Cougars coach Mark Bagley. "... We have lulls, for whatever reason, but the guys are battling."
From the start of the third quarter, Van Wert came out blazing. Michael Smelser hit back-to-back three-pointers to put the Cougars in front 24-10 a minute into the half, Coldwater go back within two on two occasions following, but Smelser had 10 points in the quarter as Van Wert led 39-31.
"Part of it was we didn't find out (who were) their shooters. We didn't come out on them," said Coldwater coach Mike Bruns. "If (shots) are contested, that's one thing. When they're unconteted, that's something we feel we should have controlled more. Give (Van Wert) credit, when they get their feet set they can shoot the ball."
"Our guys are begging (Smelser) to score," said Bagley of Smelser. "He's averaging 6.8 points per game. When he's aggressive and in attack mode, he's a very good offensive player."
Van Wert extended its lead into double digits in the final eight minutes as the Cougars hit 6-of-7 free throws and had several fast break baskets.
"I felt like the frustration hit us," said Bruns. "We got down a little bit and things weren't going our way. We showed a little bit of frustration and it affected us on both sides of the floor."
Smelser and Holliday each had 15 points to lead the Cougars. Kyle Keber added 11.
Hoying finished with 16 to lead Coldwater. Ted Fisher and Brunet each added six.
ST. HENRY TICKETS - St. Henry will be selling tickets for Friday's game during the school day on Friday and at Gels' IGA during business hours today and Friday. Tickets are $6 for adults and $4 for students. All tickets at St. Marys are $6.