Saturday, March 1st, 2014
100-year-old priest reflects on religion, life
By Doug Drexler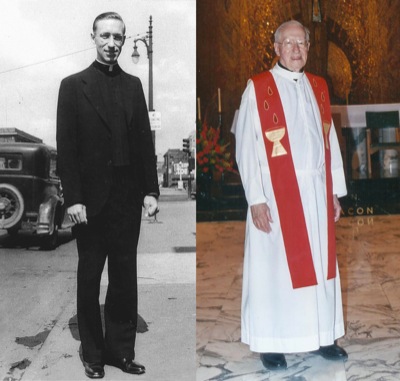 CARTHAGENA - The Rev. Leonard Kostka holds a century of wisdom but still has some questions.
He wonders why people fight to live longer when heaven offers a perfect existence. Ironically, he's still enjoying life - and sports - as he turns 100 today at St. Charles Center where he resides.
Sitting in his apartment earlier this week he talked about life and his status as the oldest member in the 200-year history of the Precious Blood order.
"I feel good, but I should feel good because everything is going my way," Kostka said.
Proudly wearing a sweater boasting his beloved St. Joseph's College (Rensselaer, Ind.) and a Detroit Tigers baseball cap, the Catholic priest talked about the 132 people expected at his birthday party at the center today.
"My younger brother (Bob, 87) will be here with his son, who is also named Leonard Kostka," he said.
Bob Kostka is his only surviving sibling; older sister Florence and younger siblings, Marguerite and Frank, have passed on, he said. He was born March 1, 1914, in Chicago, the second child of Anthony and Rose Bohemian-Czeck.
Kostka said he hopes this year's party goes better than his 99th birthday celebration when he fell ill.
"All those people celebrated in my absence," he said.
Many of the people invited today have ties to Saint Joseph's College where Kostka served in just about every role except president between 1945 and 2012. Working there kept him feeling young, he added.
Kostka said he enjoyed the vitality of being around the college kids and meeting a new wave of students every four years. It also gave him more free time and the opportunity to indulge in his passion for golf. Being a parish priest would have been more time-consuming, he said.
His passion for sports helped him befriend college students, he said.
"I was noted for going to all the games," he said. "I don't regret that at all - that's the only contact you have with some students."
He shared some of his own athletic achievements - a few in vivid detail such as a college football game between Saint Joseph and St. Viator. Trailing 7-0 with 20 seconds left, he was sitting on the bench nursing an injured shoulder when his team's running back was injured.
Then he heard the coach say, "Kostka get in there."
On a second try from the one-yard line he headed into the left flat and caught the touchdown toss.
"I got through the line without tripping somehow," he said. "I always had good hands."
He also held the ball for the successful game-tying extra-point attempt, he said.
"They sold St. Viator's College the next year," Kostka said.
As a junior at St. Anthony High School, he opened the baseball season with a home run that earned mention in the Detroit media, he said. His father thought he was headed for the big leagues.
It was a conversation with a nun at St. Anthony school that changed his life forever, Kostka said. The debate teacher, Notre Dame Sister Electa, pulled him over in the hall one day and asked if he had ever thought of becoming a priest.
"I think you might have a vocation," he recalled her saying. "If a nun tells you that, you know that there's something to it."
At a class gathering about five years later, one of his classmates said the nun had taken all the boys in the class aside with the same message.
"She told everyone that, you idiot," he remembered the man telling him with a laugh.
In 1935, he graduated from St. Joseph's then went to St. Charles, which was a Precious Blood seminary at the time. He and 19 classmates graduated in 1940. All the others have died, he said. Later he earned a canon law degree at Catholic University in Washington, D.C.
During World War II, he wanted to become an Army chaplain but found no openings. The Navy had a spot but he wasn't thrilled because as a boy he experienced motion sickness riding the streetcar. He took the position anyway.
After stops in San Francisco, Pearl Harbor and Guam, he ended his service as a lieutenant junior grade before heading off to St. Joseph's where he was the superior for six years.
"I liked the atmosphere there," he said, adding there were up to 55 priests there at a time.
The low-paid priests kept down the cost of education. Kostka regretted that as the number of priests fell, the cost of tuition rose.
He stayed on the campus until moving back to St. Charles in 2012.
Earlier this week, he glanced at the photo taken after he celebrated his first Mass in 1940, and thought about what he has learned.
"I was standing there all confident," he said. "I didn't know a damn thing."
In the years since, Kostka has gathered a few thoughts on life and the faith he loves.
"We should never get used to some things," he said.
Kostka said people must always value each other and not be distracted by television or the stresses of the world around us. Spouses should take the time to just look at and appreciate each other and express their love, he added.
"Everything becomes routine," he said. "We get tired of everything, but there are some things we should never get tired of."
"Look around a room and there are 97 other things, but the only thing that will last is us," he said. "The only important thing in a house is the people. Jesus came to save people, not the economy."
Kostka said Catholics should not take for granted but appreciate Mass.
He is saddened by the high number of abortions taking place in America, and he regrets people having fewer children for economic reasons.
He warned against becoming too comfortable in life and not striving to improve yourself and the world around you.
"If you're not suffering, you're wasting your time," he said. "Jesus did say 'take up your cross daily.' "
He spoke about several popes' including John XXIII, who called the Vatican II conference.
"I liked his personality. He had a smile and a personality," Kostka said. "Some of the Cardinals didn't think we needed a Vatican council. Every time he got a complaint, he moved it up two weeks. There are so many beautiful things in there we haven't mined yet."
"John XXIII had the idea to open the windows and let some light in here," he said. "This new pope is sounding the same beat."
Pope John Paul II had an attitude of "don't hide in the church," Kostka said.
He admired John Paul when he was "traveling to Poland to face off with the commies," he said.
"I'm still Catholic, and I'm glad; there are so many arguments for the Catholic Church," he said, adding catholic means "universal."
Kostka believes it's important to spread God's message.
"Jesus said to go out and teach all the world," he said.