Saturday, March 1st, 2014
Sullivan's shooting downs Celina, Elida holds off St. Marys to advance
Division II Boys Basketball Sectional
By Gary R. Rasberry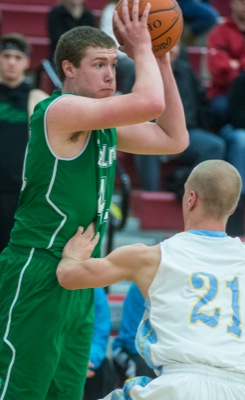 LIMA - Things went right for Celina in the first half against Bath. Solid passing and strong shooting had the Bulldogs up 27-24 at the half of the Division II sectional final.
Second half, Taren Sullivan found his shooting touch, hitting six three-pointers in the second half to lead Bath to a 66-51 comeback win at Lima Senior High School on Friday night.
Bath (18-4) travels to Liberty-Benton next Wednesday to face Upper Sandusky at 8 p.m. in district play. The Wildcats will be joined by Elida (20-3), which had to hold off a determined St. Marys squad down the stretch to escape with a 49-43 win. Elida takes on fellow WBL team Kenton at 6:15 p.m.

BATH 66, CELINA 51
The Bulldogs (14-9) got things moving midway through the first quarter after Bath jumped out to a 16-6 lead. Celina scored eight straight to end the quarter, several scores coming on long passes over the Bath defense, to trail 16-14.
Celina tied it up quickly on a Mason Ross bunny, then after a Colin Gossard bucket went up 19-18 on a Eric Moeder three-pointer. Grant Laffin followed with a bucket to make it 21-18 with Ross scoring again for a 23-18 lead. Bath tied it up at 23-all, but Ross and Caleb Hoyng scored late to give Celina a 27-24 lead at the half
"Early on, we ran the floor well and got some good looks," said Celina coach Chris Bihn. "I think we were more aggressive."
A Ross basket 28 seconds into the second half put Celina up 29-24.
Taren Sullivan followed with a three-pointer that would be an omen of things to come, but it was Gossard with a eight straight points that put Bath back into the lead at 35-31. Celina cut it to 35-33, but Hayden Atkins scored to make it 37-33.
Sullivan took control of the game from this point, hitting his second trey of the quarter to make it 40-33. After a Andrew Renner try, Sullivan hit two more in consecutive possessions. When the buzzer sounded to end the quarter, Bath was up 49-40.
"We had them at 10-of-16 from the three-point line in the second half," said Bihn. "They were in a rhythm and able to get good looks. The biggest thing was not closing out hard enough on shooters. We didn't get a hand up, so they were getting good looks."
"I think going into halftime, we said we had to come out and take over the first three minutes (of the second half)," said Sullivan. "That was a big part of the game. (Teammates) told me if I got the open shot, pull it.
The Bulldogs worked to keep the Wildcats from pulling away, but Sullivan, Renner and Gossard remained hot. Midway through the fourth quarter, it was 58-43. By the final 90 seconds of the game, Bath pushed the lead up to 20 at 66-46 before Celina whittled it back down to 15 to end the game.
"The biggest thing in the second half was when we were picking them up full court (on defense), they weren't able to set up their offense," said Bath coach Doug Davis. "One thing that does is when (Celina shoots) the ball out of their offense, everybody knows when the shot is coming and attack the glass. They weren't trying to run the offense, they were trying to beat the pressure."
"Second half we became more defensive-minded," said Bihn. "When we had the ball, instead of attacking (the Bath defense), we were trying to make the next pass. Against that kind of pressure, you have to look to score. (Bath) forced us to change our mindset."
Sullivan was 7-of-10 from the three-point line to finish with a game-high 25 points. Gossard scored 19 with Renner adding 13.
Ross scored 12 in his final game as a Bulldog. Ryan Hoyng added 10.
ELIDA 49, ST. MARYS 43
Unlike the first meeting, when Elida won 77-59, St. Marys showed up with defense on Friday night, although it took a few moments to get it going after Elida scored the first seven points of the game. Nathan Wilker tied it at 9-all with a three-pointer, then scored a two-pointer to give St. Marys (10-13) a lead at 11-9. Elida and St. Marys traded the lead a couple of times early in the second quarter before taking the lead for good on a Marquevious Wilson bucket with 6:18 left in the half.
Purdue-bound Dakota Mathias, the likely WBL Player of the Year, reached 10 points early in the second quarter, but went scoreless throughout the third quarter and not score his 12th point until early in the fourth quarter.
"We wanted to guard him this time," said St. Marys coach Dan Hegemier of his strategy against Mathias, who had 29 points in the first meeting. "We just spread the zone and put a body on him. He's a good player. How many good passes did he make for shots? Scoring is just part of his game."
"They were a lot more aggressive in their zone," said Elida assistant coach Matt Smith, who filled in for interviews as head coach Denny Thompson headed to Riverdale to watch the Kenton-Tiffin Columbian game. "First time they played Triangle-and-2 and the guys not guarded hit shots early."
For the rest of the game, Elida would try and put away the game, only to have St. Marys come back and make it close again. Elida had a double digit lead just once as Louis Gray scored five straight points to make it 33-22 with 5:18 left in the third quarter. It took just 24 seconds and a Derek Jay three-pointer to put it back within eight.
Elida led 45-37 with 5:18 to go in the fourth quarter, but would not score again for over four minutes as St. Marys began to make a run. Marquis Wilson came big down the stretch, with back-to-back buckets cutting the Roughrider deficit to 45-43 with 2:53 to go. St. Marys had chances to tie or go ahead on its next two possessions, only to turn it over both times. The second time came on a deflected pass that Mathias picked off. Marquevious Wilson, Gray and Mathias each hit free throws in the final 46.7 seconds of the game to push the lead back up to six to end the game.
"We made the plays to pull it out at the end, but it certainly wasn't an easy one," said Smith.
"St. Marys basketball is getting there," said Hegemier. "Kids are battling and playing hard, where in the past if things didn't go well they'd put their head down. Now, they (keep) battling. I'm proud of our kids."
Wilker finished with 12 points to lead St. Marys. Marquis Wilson added nine and Isaac Fitzgerald scored eight.
Gray led Elida with 15 points. Mathias, shooting just 5-of-15 from the field, finished with 14 points and 11 rebounds. Marquevious Wilson chipped in with 12.