Friday, March 7th, 2014
Chamber awards salute service
Group's top honor goes to Overman
By Doug Drexler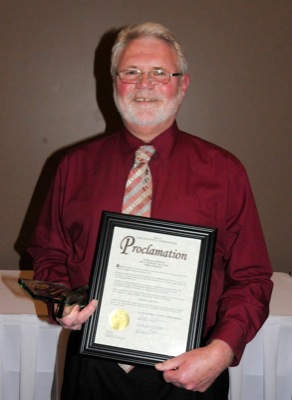 CELINA - Those who help others in need were honored Thursday by the Celina-Mercer County Chamber of Commerce.
Mike Overman was named citizen of the year for his dedication as superintendent of the Mercer County Board of Developmental Disabilities.
"The 2013 citizen of the year is a person that makes you realize that his passion is not just his job, it is his life," chamber executive director Pam Buschur said at the annual awards banquet. "He has made the local developmental disabilities program a place and service Mercer County can be proud of. It has grown under the leadership of our citizen of the year to offer more high-quality services and supports a larger and more diverse population.
"Several Cheryl Ann associates are living in their own home, a dream come true for them and their families because of his advocacy and knowledge," she said. "It would take hours to come up with the number of individuals whose lives have been directly touched by his hard work, dedication and forethought. His vision and resolve have allowed a number of individuals with disabilities to have relationships with members of the community they never would have met without the support of programs he has set up."
Overman said he was stunned by the award; his employees hid the real reason he was invited to the banquet.
"No one can do it alone. Over there are a whole lot of sneaky employees," he said pointing to the board's table. Asking them to stand up, he said, "They are Cheryl Ann."
Slightly fumbling for words, Overman told of his pride in the area.
"I would recommend anybody to be from Mercer County," he said.
Overman started teaching at Cheryl Ann in 1975 and took over as superintendent in 1982.
"It's been a loving time," he said of working with the staff, families and politicians involved with the program. He said Mercer County is a great area to raise a family.
Celina Manor earned the business of the year award for its caring, laugh-filled atmosphere over its more than 30 years, Buschur said.
"They have maintained, nurtured and enhanced a tradition that forms the very foundation of their approach to delivering services to their families, friends and neighbors - a tradition of caring," Buschur said. "Community involvement is very important to this company and their staff. They host many community events and informational programs that are free to the public. Interaction with their residents and the community is a priority for the staff.
"The management of our 2013 business of the year encourages volunteerism in their employees by allowing them the time to participate in local civic clubs and organizations," she said.
"Your community will take care of you if you take care of your community," administrator Melissa Smalley said. "I want to thank you for letting us serve you."
She thanked the nursing home's 160 employees for their dedicated work.
"They're serving every day," she said, adding 26 employees are in the platinum club, meaning they've worked at Celina Manor at least 25 years, for a total of 800 years of experience.
The achievement award went to the community garden committee at Wright State University-Lake Campus. The committee headed by Ron Kremer and Kip Wright has pulled together an effort that has helped local food pantries, Buschur said.
"Through their efforts, this group has formed working relationships with numerous local companies, organizations and individuals to donate supplies to their project," Buschur said.
"Through the efforts of this committee and cooperation of local businesses, over 3,000 pounds of food have been grown and donated to CALL Food Pantry in Mercer County and Agape Food Pantry in Auglaize County," she said. The last harvest of the year is used to create a large soup gathering for students, faculty and staff at the campus. Serving the hungry families of Mercer and Auglaize counties, this community garden will continue to grow."
Mercer County Emergency Response Volunteers earned the humanitarian award for members' dedication to helping local emergency responders.
"This group of volunteers - men and women - is on-call to assist with traffic control for fires, traffic accidents, storm damage that interferes with traffic and flooded roadways," Buschur said.
"They also assist with traffic control during large events and festivals, freeing up local law enforcement," she continued. "They have saved the taxpayers tens of thousands of dollars over the years. They do their own fundraising to maintain equipment and supplies. Their time and energy are donated.
"The public safety community and the citizens of Mercer County owe a debt of gratitude to these dedicated men and women."