Friday, March 7th, 2014
Rangers fall short in semis
Division IV Girls Basketball Regional Semifinals
By Robb Hemmelgarn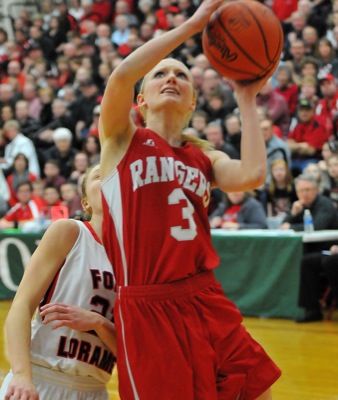 TIPP CITY - It was a showdown between the Midwest Athletic Conference and the Shelby County League on Thursday night, as the New Knoxville Rangers tussled with the Fort Loramie Redskins in the Division IV girls basketball regional semifinal at Tippecanoe High School.
Despite an incredibly gutsy performance by senior Haley Horstman, the Rangers' campaign came to a disappointing conclusion as they fell to the defending Division IV state champion Redskins 50-44, snapping New Knoxville's 19-game winning streak.
With the triumph, the Redskins (25-2) will play for the regional title on Saturday against unbeaten Fayetteville Perry, which defeated Felicity Franklin 64-46 on Wednesday night in Tipp City.
The Rangers (21-5) took the reigns in the opening moments and jumped in front 4-0, but the Redskins shrugged off the quick start in a hurry with 12 straight points fueled by six counters from Shelby County Player of the Year, Darian Rose. The Redskins led by as many as nine points near the end of the period, but a three-pointer by Horstman at the 45 second mark pulled her team to within six at 15-9 after one quarter. "I told the girls all week that we can't give up easy lay ups and we gave up way too many in the early-going," New Knoxville head coach Tim Hegemier explained. "We also had too many turnovers in the beginning. We had some young girls on the floor who weren't used to that kind of an atmosphere and it showed at times tonight."
New Knoxville was plagued by six straight turnovers at the start of the second quarter before Horstman showed why she is the reigning three-time MAC Player of the Year.
With her team in a 19-12 hole, the point guard unleashed eight straight points in just over a minute to give the Rangers a 20-19 lead. Fort Loramie knotted things at 20 points a few moments later, but on the Redskins' next time down the floor, Horstman swiped the ball near mid-court and sunk a lay up while drawing the foul. She polished off the three-point play to bump New Knoxville ahead by three, only to have Fort Loramie close the half with five straight points to move back in the driver's seat, 25-23.
"We told the girls that we wanted to contain Horstman tonight and then try to stop everyone else, and I felt for the most part we did a good job of that tonight," Fort Loramie head coach Carla Siegel said. "I thought we played good post defense on Paige Lehman tonight, but we still gave up too many rebounds and that is something we are going to have to work on."
Not to be outdone by Horstman's performance in the second quarter, Rose flexed her muscles in the third period with 11 points, as the Redskins went on an 8-1 run late in the period to extend their command to nine points at 38-29. Junior Meg Reineke pumped a little life into New Knoxville's offense with a three-pointer that sliced their deficit to six points at 38-32.
"We knew it was going to be a great battle tonight and New Knoxville played great defense," remarked Siegel. "I think our experience helped us out at times. We were able to hit our free throws and the girls played like they have been here before and thankfully we are able to move on."
New Knoxville clawed back to within four midway through the final quarter with another old-fashioned three-point play by Horstman, but Fort Loramie's Janell Hoying responded with a long ball to increase her team's cushion back to seven at 45-38. Horstman tallied the game's next four points to draw her and her teammates to within three, but Hoying was a dream-crusher once again with another three-pointer, extending the Redskins' lead to six. A shot underneath by Paige Lehman closed New Knoxville's gap to four points with 3:07 to go, but that is all Hegemier's girls would score as they eventually fell by the six-point margin.
"Hoying hitting those shots in the end was really hard on us," Hegemier commented. "We kept fighting though with chances to knock it down to three or four points, but it just didn't happen. Fort Loramie is very well coached and they have been in big games before and tonight it showed."
Horstman closed out her extraordinary career as New Knoxville's all-time leading scorer with a game-high 28-points, while Rose, the Southwest District's Division IV Player of the Year, spearheaded the Fort Loramie attack with 23 in the victory.