Thursday, March 13th, 2014
Never-ending winter drags on
Vulcan helps tie local snow record
By Shelley Grieshop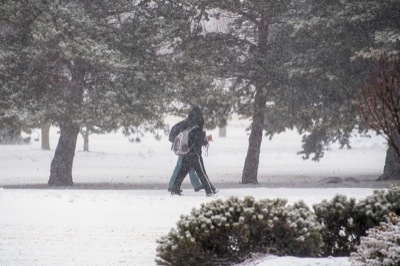 CELINA - Keith Anderson trudged through the snow along North Main Street with his head down so the icy sleet didn't sting his red-cheeked face.
"I am ready for spring," the 63-year-old Celina resident said during Wednesday's latest snowstorm. "I like snow but this has been going on too long and I've got spring fever. I can't wait to get out and start mowing."
Mercer County's seasonal snowfall record of 61 inches was tied Wednesday as Vulcan - the 22nd named storm in the United States this winter - dropped 4.1 inches in the Grand Lake area. The record was set the winter of '78, according to local weather forecaster Dennis Howick.
"I don't think the snow this year has bothered people as much as it did during the blizzard because we've gotten it a few inches at a time," he said. "But it's been so cold."
The temperature during a normal winter drops to zero or below zero an average of four days, Howick said.
"We've already had 28 of those days," he said, adding the mercury fell to minus 16 on two days in January and February.
Don Hughes, a meteorologist with the National Weather Service in Wilmington, said climate conditions fascinate him but he, too, is tired of winter.
"I don't know about you but I'm sick of this snow," he said Tuesday. "It seems like it's been a long winter."
Earlier this week some residents donned T-shirts and shorts as temperatures rose to near 60 degrees. But the warm-up was a short-lived tease; the overnight low this morning was 5 and today's high is 25.
Many counties across Ohio have tied or broken snow and cold weather records in the last month, Hughes said. Toledo topped their historic snow measurement this year with 73.5 inches, he said.
"But it's not really been a bad year for lake effect snow because the lake's been frozen over for some time," Hughes said.
The longtime meteorologist said Mercer County likely could experience more white stuff before the month is over.
"Last year Celina had 151/2 inches of snow in March," he said, adding it was the second-highest total on record for the month.
Rob Dunlap on Wednesday afternoon attempted to steer a dozen or so shopping carts through the slush on the parking lot of the Walmart Supercenter in Celina.
"It's been really tough. They just don't want to move," he said pointing to the small, rubber wheels on the carts.
Dunlap, a nine-year employee of the box store, said he was tired of battling a snow drift the wind kept recreating in front of the cart garage door.
Although spring officially arrives one week from today, it's anybody's guess how long winter will hang on.
"Maybe this year we'll go straight from winter to summer," Howick said, adding he hopes the summer months aren't as extreme as the winter months have been. "It seems like Mother Nature evens everything out in the end."