Tuesday, March 25th, 2014
Watershed partners snag state award
By Nancy Allen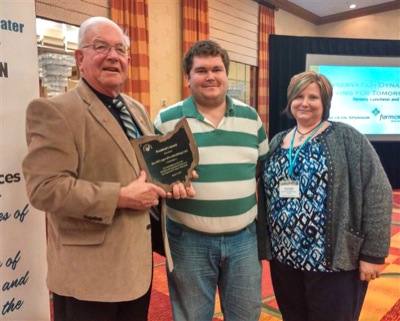 County, state and federal officials working with Grand Lake Watershed farmers in Mercer and Auglaize counties to help restore Grand Lake have been recognized with a state award.
Soil and water conservation district offices in both counties and partners with the Ohio Department of Natural Resources and USDA's Natural Resources Conservation Service received the President's Award from the Ohio Federation of Soil and Water Conservation Districts. President Joe Glassmeyer presented the award to local soil and water officials on March 4 during the federation's annual meeting in Columbus.
"I'm extremely excited and proud not only for our staff who has worked so hard, but all the farmers, the different groups like the LIA, LRC and everyone who has worked to have a good name associated with the Grand Lake Watershed," said Nikki Hawk, administrator/education specialist at the Mercer SWCD.
Farmers in the watershed were required to complete nutrient management plans as part of new manure rules put in place after the state designated the watershed distressed on Jan. 18, 2011. The designation came after animals and humans were sickened by toxins in the 13,500-acre lake produced by blue-green algae. Phosphorous is the main nutrient feeding the algae. Most of the phosphorous runs off farmland, the largest land use in the 58,000-acre livestock-rich watershed.
Each year the federation recognizes a county SWCD for outstanding work and contributions that result in helping the citizens of Ohio and the natural resources we use, conserve, and protect, the federation said in a news release about the event.
"These conservation partners worked diligently - together - in an effort to reach out and assist residents and agriculture producers through the development of 150-plus nutrient management plans, the implementation of a multitude of conservation-related structural practices and other critical water quality projects and programs," Glassmeyer said.
Glassmeyer stressed that the group, now known to him as the Grand Lake St. Marys Watershed Improvers, have put in "countless hours of service, educational outreach and much more in an effort to get things done right to make resource improvements for the future."
Hawk said she hopes the work the SWCD offices, its partners and farmers have done can be used as a template for other watersheds facing the same problem. Toxic algae blooms are a worldwide phenomenon.
"There's still a lot of work to be done, but everyone realizes we are running a marathon and not a sprint," she said. "We're going to keep going to address any resource concerns out there."
The luncheon recognized a number of individuals for outstanding conservation efforts during the past year, including teachers, supervisors, SWCD staff and landowners.
The event's attendance included more than 600 conservation leaders representing local, state and federal government, farmers, business owners and others. The meeting focuses on conservation training, development, education and outreach.