Thursday, March 27th, 2014
SIGNING OFF: Highley ends 33 years as host of 'Country Leisure' radio show
By Margie Wuebker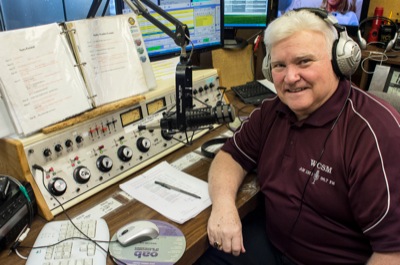 CELINA - Jim Highley, host of WCSM Radio's weekly "Country Leisure" show, will sign off for the last time Sunday night, ending a 33-year run.
The show debuted April 1, 1981, after a discussion with station owner John Coe.
"John gave me eight weeks to prove myself and told me he would let me know how things went," Highley said. "He never let me know, so I guess it all worked out."
Highley had radio experience - he had appeared regularly on Denny Dangler's Auburn, Ind., show, emceed country music concerts at Dangler's D.J. Country Buck Lake in Angola, Ind., and established a rapport with country stars such as Loretta Lynn, Bill Anderson, Porter Waggoner and Little Jimmy Dickens.
The local show initially aired 8-9 p.m. Thursdays and then moved to Wednesdays before settling in the 7-11 p.m. Sunday slot.
"The program started with one hour and then expanded to three hours, four hours and finally five hours," Highley said. "I went back to four hours the year I turned 50."
The format has remained primarily country music, with the addition of a gospel hour from 9 to 10 p.m. Each show ends with the song "Thank God for America" - a tradition Highley started in 1989.
Highley often incorporated interviews he had had with recording artists during trips to Nashville and elsewhere. He also had a penchant for promoting area talent like Sharon Bertke, Renee Seibert and Dawn Burkholder.
All the music played during the Country Leisure Show is from Highley's personal collection. Initially, he toted cartons of 331/3 rpm records into the station; now he brings his CDs.
Highley laughed heartily, recalling a night he left some records in the car. With an album on the turntable, he inadvertently headed outside without a key. He ended up flagging down a passing truck driver who in turn called the station manager.
"John Coe came to my rescue but not before fans experienced some dead air," he added. "You have to 'fess up to mistakes on live radio. You really can't cover up something like pushing the wrong button when you announce a Roy Clark song and Patsy Cline's voice fills the air."
Highley learned to operate the radio controls over the years but relied on his wife, Georgia, to field telephone requests from listeners. Karen Bechtol has handled the assignment the past eight years.
With an audience ranging from youngsters to senior citizens, he has amassed many friendships, including 46-year-old Mike Blakeley, a Union City nursing home resident who is blind and has cerebral palsy. Blakeley began calling the show when he was 12 and he remains a weekly feature of the program.
Highley laments the demise of longtime listeners like Maxine Portz, a Fort Recovery resident who journalized the songs featured on each show, and New Bremen resident Herman Mohrman, who could be counted on for weekly requests.
"Maxine's son sent me some of her journals after she died and I treasure them dearly," he said with a sigh. "Herman's brother asked me to put together a tape of his song requests for the funeral."
Highley, who served as Mercer County clerk of courts for 36 years, seldom missed shows with the exception of political campaigns.
"I hired a replacement from the primary until the general election in the five campaigns where I had opposition," he said. "That proved to be a costly proposition."
Highley had hoped to continue hosting the show for two more years to reach the 35-year mark. However, station officials decided earlier this year to phase out the program.
"I'll be 70 next month and I've never had to think about what to do on Sunday nights," he said. "Maybe the time has come to watch television."