Wednesday, April 9th, 2014
Cavaliers crank up offense in sixth
By Gary R. Rasberry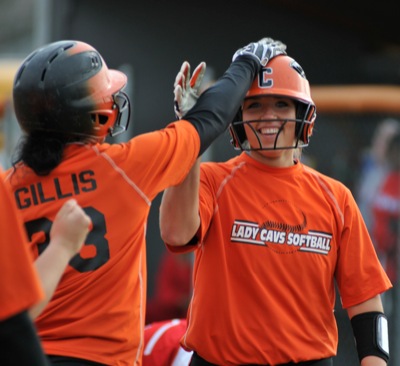 COLDWATER - It took some time for Coldwater to get its offense going.
Once that happened, the Cavaliers dominated, scoring twice in the fifth to take the lead and then scoring five in the sixth to defeat Lima Central Catholic 7-1 at Lady Cavaliers Diamond on Tuesday.
The win moves the Cavaliers to 4-1 on the softball season.
The first three innings for both teams were controlled by the pitchers. Coldwater starter Emma Homan retired the first six batters she faced before issuing a walk to Tatum Wise to start the third inning and then quickly recorded three straight outs without issue.
Thunderbirds pitcher Meredith Shepherd worked out of several Cavalier threats. Coldwater had runners on base several times, but the LCC pitcher was able to get through the threats relatively unscathed.
In the fourth inning, the first T-Bird hit was a dandy as Shepherd took the first pitch offered by Emma Homan over the fence in center to make it 1-0. LCC tried to pad the lead as Homan hit a batter and then walked another before getting a groundout to end the threat.
"Emma has been doing a nice job of pitching," Coldwater coach Ken Fisher said. "That pitch (to Shepherd) could have shaken her. The next two hits were little line drives, but other than that, she kept them off-balanced and the defense backed her up like they needed to."
Coldwater put two runners on in the bottom of the fourth but could not bring them around. In the fifth, Leah Homan helped out her twin sister with a big at-bat after rallying from an 0-2 count with several foul-offs and taking several pitches to get to full count on Shepherd before hitting a line drive over the fence in left to tie the game.
"She gets down 0-2, battles back to full count and hits a home run," Fisher said. "That's the kind of stuff we have to do as a team, to keep battling in everything we do."
Later, with one out and Ashley Backs at first, Karla Borgerding grounded to third, but the throw to first was off the mark, ending up at the fence in right field. Backs sprinted around to home to put the Cavaliers up 2-1.
Coldwater padded its lead in the sixth, sending nine batters to the plate and scoring five times. Jenna Black and Backs each had RBI doubles and pinch-hitter Erica Jutte had an RBI triple during the run.
"Everyone contributed in this one, one way or another," Fisher said. "That's what we've been telling them. If you come in to run (or) if you come in and get a pinch-hit triple like Erica, all those things contribute."
Emma Homan finished the game strong, striking out seven and walking only three in allowing just five hits. The Cavalier defense played errorless softball.
"We stressed at the beginning of the year (that) we wanted to play good defense," Fisher said.
Brittany Gillis and Backs each had two hits to lead the Coldwater offense.
Coldwater is back in action today, playing Lincolnview in a game that was rained out on Monday. The start time has been moved up to 4:30 p.m.