Friday, April 11th, 2014
Donovan's walk-off homer lifts Celina
By Colin Foster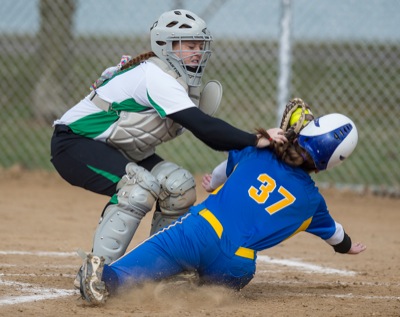 CELINA - Trailing Marion Local 3-2 in the bottom of the 12th inning, Celina sophomore Melody Donovan stepped up to the plate with two runners on base and two outs.
"When I got up, I was visualizing a hit," Donovan said.
What happened next was the stuff that dreams are made of.
Donovan, who was hitless entering the at-bat, put an end to a 2 1/2 hour-long game against the Flyers with a three-run home run to lift the Bulldogs to a 5-3 victory Thursday at Bill Feth Diamond.
"When I hit it, the first thing that popped into my mind was this is a dream," Donovan said. "That was definitely something, and I'm glad it happened."
Marion Local took 3-2 lead in the top of the 12th, when Katie Elking, who singled to lead off the inning, scored on a grounder by Claudia Mescher.
Up until the 12th, the game had been a titanic struggle to get runs across for both teams. Marion left a total of 11 runners on base and Celina had stranded nine, along with having runners picked off at first on multiple occasions.
"We were frustrated because we weren't breaking through," Celina coach Nicole Driggs said.
"Early in the game, we left a lot of girls on base," Marion Local coach Russ Puthoff said. "Their defense stepped up and got the outs when they had to."
The Flyers (4-2) recorded two quick outs to start the bottom of the 12th on a pop out to Megan Wendel and a diving catch by center fielder Sarah Fesenmyer. What ensued, though, was a two-out rally by the Bulldogs with a double by Haley McGillvary, a single by Alexis Zacharias and the game-winning homer by Donovan, who also got the victory on the mound in relief of Alexis Zacharias.
"You just saw it coming, one team was going to do it or the other," Driggs said. "It was do or die. They did it at the top of the inning. It was do or die for us. We had to come through with that.
"We had three girls get three hits with two outs. That's awesome. That's the kind of focus we need. We're capable of doing this in the future and connecting those hits."
"That's two teams that battled hard to win the game," Puthoff said. "They came up with a big hit. We came back in the last inning, worked hard and scored one to get the lead. They got a couple runners on base (in the bottom of the 12th) and they came up to hit."
Callie Vogel, who finished the game with three hits, put the Bulldogs on the scoreboard first with a solo home run in the bottom of the second inning.
Marion Local responded with of run of its own in the top of the third, as Wendel's RBI single scored Alyssa Ruhenkamp.
Celina went back on top in the fifth. Audra Schoen singled and took second to lead the inning, which set up an RBI base hit by Stephanie Walter.
After stranding three runners in the fourth and one each the fifth and sixth, the Flyers sent the game to extras on an RBI double by Wendel that scored Mindy Puthoff.
Wendel led Marion with three hits. Senior pitcher Allison Rosenbeck, who came on in relief of Homan in the eighth, suffered the loss.
Zacharias had four hits to lead the Bulldogs.
"We've got a bunch of fighters," Puthoff said. "We've got a very young outfield out there, two freshmen and a senior, and I thought they played very well. This team is not giving up. It doesn't matter who we're facing so far, they're fighting through the whole game. I think we'll be fine. Hats off to Celina, they definitely didn't give up. They're young and battling to. They did a nice job of hitting the ball."
Marion Local (4-2) gets back on the diamond today against Columbus Grove.
Celina (3-3), riding a three-game winning streak, resumes Western Buckeye League play today against Elida at Dorothy Edwards Field.