Tuesday, April 15th, 2014
NetDogs move to 3-0 in WBL
By Gary R. Rasberry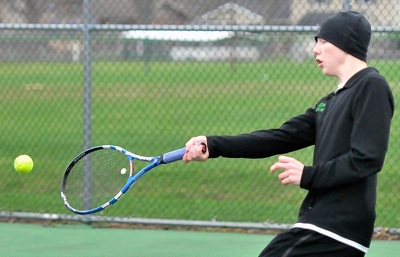 CELINA - After playing in warm weather over the weekend, the Celina boys tennis team had to deal with chilly temperatures as they got back into Western Buckeye League play against Wapakoneta at the Booster Club Tennis Complex.
The NetDogs came through with a clean sweep of their matches against the Redskins, winning 5-0 to improve to 3-0 in league dual matches.
"We had tough conditions tonight," Celina coach Toma Hainline said. "It was cold (and) actually slippery on the court (due to light rain). The kids came through. They've been pretty well psyched since Saturday (when the team finished second at the Schroeder Invitational) in Tipp City. I thought they had good attitudes and didn't look tired because it was a long day Saturday. They came out and took care of business."
Four of the matches were on and off the court in relatively short fashion. Aaron Siebel won his First Singles match against Drew Wayman by a 6-0, 6-2 margin. Twin brother Alex Siebel matched that score in his Second Singles match against Jordan Dodds.
The NetDog doubles teams were even more efficient. Isaac Elston and Kris LeJeune posted a shutout in their First Doubles match against Alex Steinbaugh and Andrew Gibson, winning 6-0, 6-0. In Second Doubles, Hagan Kriegel and Joel Weitz lost just one game to Bryce Schlenker and Seth Bowers in winning 6-1, 6-0.
"That's one thing we've been talking about this year," Hainline said of the efficiency of quick matches. "We don't have to hit the super hard balls all the time. We have to play smart tennis. If that's hitting the holes and angles, that's what we'll do."
The marathon match of the day came in Third Singles as Celina's Nathan Lutz faced off against Joe Pitts. The NetDog junior jumped out to a 6-4 win in the opening set. Pitts came back to take the second set 4-6.
In the third set, Lutz took the early 2-1 lead before Pitts won two of the next three games to go up 4-2. After a split of the next two games, Pitts looked ready to take the win at 5-3, but Lutz battled back and eventually tied the game at 6-6 to force a tiebreaker.
Lutz took control in the first-to-seven tiebreaker, winning 7-3 to take the set and match.
"He really grinded out a nice tiebreaker in the third set," Hainline said. "Couldn't be more pleased with his effort to give us that 5-0 win."
In junior varsity matches, Thomas Morris won a singles match for Celina while Dean Yaney and Grant Guggenbiller won a doubles match.
Celina continues its league-heavy week of action today, hosting Bath. If weather does not permit, the match will likely be Wednesday. Celina travels to Ottawa-Glandorf on Thursday for another league match.