Friday, April 18th, 2014
Rainbow trout stocked in lake near St. Marys
Public can fish during daylight hours; fishing license is required
By Nancy Allen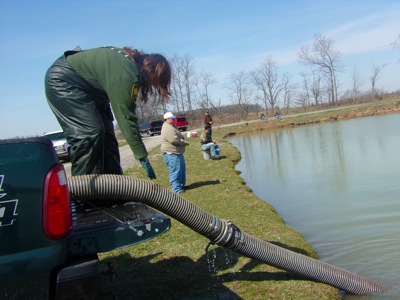 ST. MARYS - Anglers were waiting when a truck from Castalia Fish Hatchery arrived Thursday at Davis Lake to deliver 503 rainbow trout.
Jill Conner, fish hatchery technician, used a large hose to transfer the fish measuring 9 to 14 inches long from a holding tank into the 13-acre lake north of the city at the Auglaize County Solid Waste and Recycling Center, 15202 River Road.
"Last year we caught our limit of five," said Cory Kohli of Lima, who was there with his brother-in-law, Cotey Schoeff, and father-in-law, Chad Sanders.
Kohli was using wax worms for bait; Sanders was using a shiny, metal lure.
"They like flashy stuff," said Sanders, who was making his third annual trip to the lake to fish for trout.
The Ohio Division of Wildlife does similar stockings at numerous locations from mid-March to mid-May to provide more public fishing opportunities.
This is the fourth consecutive year the state has stocked rainbow trout in Davis Lake, which is open to the public for fishing during daylight hours. The lake is owned by the city of St. Marys.
The trout are cold water fish that will not survive the summer in Ohio waters, Ohio Department of Natural Resources spokesman Matt Eiselstein said.
From 2003-2009, the state stocked rainbow trout in a channel along state Route 364 near Grand Lake. The practice was discontinued and the stocking switched to Davis Lake because that site worked better, Eiselstein said. The channel at state Route 364 had to be shut off so the fish would not escape into the lake, he added.
Sanders, of Lima, caught two trout Thursday and Fred Dorsten and Dale Bowersock, both of St. Marys, each caught one a short time after the trout were released.
"Dale told me about it, so I thought I'd come fish with him," Dorsten said, adding the fish he'd just caught put up a good fight. "It's better than staying at home watching soap operas."
Anglers must have a fishing license and fishing is allowed only from the shoreline.