Friday, April 18th, 2014
Bulldogs struggle against Titans
By Lyle Kittle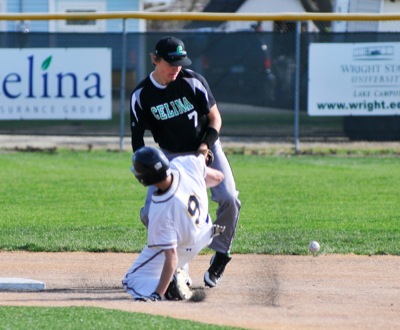 CELINA - It's always difficult to win when a team doesn't capitalize on opportunities. It's even more difficult when a team doesn't play well.
Celina (2-2 in the Western Buckeye League and 7-5 on the season) lost its third game in four nights when the Bulldogs came less ready to play than their opponents. Ottawa-Glandorf improved its league mark to 3-0 and its overall record to 6-3 by besting the host Bulldogs 7-4 at Montgomery Field.
The Dogs stranded nine baserunners, eight in scoring position in the last five innings, to account for missed opportunities. The only innings in which the Bulldogs didn't strand runners in scoring were innings one and two, when they were retired in order by Titans' starter and winner Tanner Schimmoeller. All in all, Schimmoeller was actually much less effective than losing pitcher Kaleb Kuhn.
"We just came out flat," said Celina skipper Andy Mikesell. "We weren't ready to play. He (Schimmoeller) pitched okay, but we'll see better pitchers this year. I think we were a little intimidated at first."
The right-handed Schimmoeller walked six in 6 1/3 innings of work, compared to Kuhn's one in five frames. Because of three critical errors, Kuhn allowed only two earned runs (five overall) to Schimmoeller's three and the Bulldog starter fanned eight in his five innings of work while the Titans' starter struck out seven.
The Titans came out swinging, getting a double in the gap from leadoff hitter Brad Croy to start the game. Tyler Zender reached on a one out error and stole second. Catcher Ben Dieterling drove home both runners to stake O-G to a 2-0 lead.
Andrew Wischmeyer singled with one out in the second and Croy reached on the second Celina error. Chandler Kersh walked to load the bases and Wischmeyer scored when Tyler Zender forced Kersh at second. Zender took second and Croy scored on a double steal to make it 4-0.
Celina battled back with a pair of runs in the fourth inning. Skyler McCarter walked and Cody Vogel singled him to second. Both runners moved up on another double steal and Brandon McGillvary drove McCarter home with a safety as Vogel took third. Vogel scored the second run on a well-executed suicide squeeze by Jimmy Luebke.
Celina's third error came in the fifth, allowing the leadoff man to reach base. Dieterling doubled to send the runner to third. Drew Schierloh singled to left to score the first runner, but a strong throw from Seth Lonsway cut down Dieterling at the plate.
O-G added another run in the sixth on consecutive singles by Wischmeyer, Croy and Kersh. Celina answered in the bottom of the frame when pinch-runner Nick Chapman stole second. Luebke followed with a one-out walk and Jacob Homan singled to load the bases. Chapman scored when Lonsway forced Luebke at third.
Schierloh scored for the Titans in the top of the seventh when he singled, stole second and then third, and came home on a base hit by Austin Williams.
Celina's final run came in the bottom of the seventh when Kuhn singled, moved up when Schimoeller's pickoff attempt failed and scored on single by McGillvary.
Celina's next action comes on Saturday when the Bulldogs travel north to Findlay for a twinbill.