Friday, April 25th, 2014
Program helps vets make 'The Journey Home'
New Indiana center offers hope
By Shelley Grieshop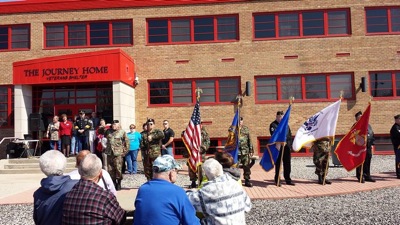 WINCHESTER, Ind. - A new residential facility opened last month for male veterans who are homeless, addicted or struggling with other difficulties.
The Journey Home - the only residential program of its kind in the country to exclusively serve veterans - is located 50 miles away in Winchester, Ind. The 15-bed home provides clothing, bedding, a room and recovery programs at no cost to veterans 18 and older from Mercer, Darke and Preble counties in Ohio, and Jay, Delaware, Henry, Wayne and Randolph counties in Indiana.
"But we're not going to turn any veterans away from other areas if we have a bed available," said Linda DeHaven, president of the facilities' board of directors.
DeHaven gave a presentation about the facility to area leaders and others at the American Legion in Celina on Thursday evening. It was her idea to include three Ohio counties in the service area.
"I felt the circle should be completely around Winchester," she told the newspaper.
The 5,000-square-foot transitional home at 325 S. Oak St. already has two residents. The dwelling is located inside a county-owned building and adjacent to several social service agencies.
Funding for the home's annual budget, projected at $125,000 to $150,000, is through donations from businesses, organizations, fraternal groups and individuals.
Interested veterans must first complete the Veterans Administration's Substance Abuse Treatment Program before signing a voluntary and personal six-month commitment to The Journey Home. The SATP offers help for victims of post traumatic stress disorder and/or drug and alcohol issues, and includes a minimum 26-day stay, DeHaven explained.
PTSD often is linked to addiction, DeHaven said.
"It usually leads to alcohol or heavier stuff. They (veterans) suppress so much," she said. "The addictions then take over their lives. They lose their family, their homes ... sometimes everything they have."
The Journey Home program "offers them an opportunity to get back on their feet," DeHaven said, adding that it's a faith-based, structured environment with a daily routine where residents are held accountable.
"We have a learning center where they're taught computer skills and can create resumes. We also have seven employers offering jobs to our veterans," she said.
Residents must complete daily work assignments and fix their own meals; a "chef of the day" is chosen to make dinner for everyone each night, she said. Each veteran is responsible for cleaning up after himself.
The facility - the former site of the Randolph County Hospital - has full-time house parents, a manager/director, nurses and an on-call counselor who makes regular visits. The building is handicap-accessible and one of the four-person bedrooms is designed for wheelchair-bound individuals.
Mercer County Veterans Service Officer Tom Risch recently toured the building.
"It's very impressive, an absolutely beautiful place," he said, adding he believes there are local veterans who could benefit from the Indiana facility. "We're trying to spread the word."
DeHaven, a displaced worker, is a volunteer at the home where she works 50 to 60 hours per week. Randolph County Veterans Service Officer Mike Kennedy had helped a member of her family and she was more than happy to pay it forward when asked in March 2013 to serve on the board of directors, she said.
Exactly one year later she stood with other officials at the ribbon cutting ceremony.
"This place is for good people who need help ... a chance to turn their lives around and be independent again," she said.

Volunteers, donations needed for residential center:
The Journey Home, a new residential center for veterans in Winchester, Ind., is in need of volunteers, food and funds, according to board of directors president Linda DeHaven.
Monetary donations of all sizes are welcome. Designated sponsors range from Hero Level at $500 to Founder Level at $10,000.
The organization also accepts Wall of Honor sponsorship for each of the 98 drawers in a box unit from the historical Randolph County Courthouse. For donations starting at $500, a veteran can be honored by a nameplate with special items tucked inside his or her drawer.
DeHaven said donors also can help name specific areas in the home.
To donate, volunteer or obtain more information about The Journey Home, go to www.thejourneyhomeindiana.org, find it on Facebook or call 765-595-8297.