Friday, April 25th, 2014
Passed ball gives Redskins the victory
By Colin Foster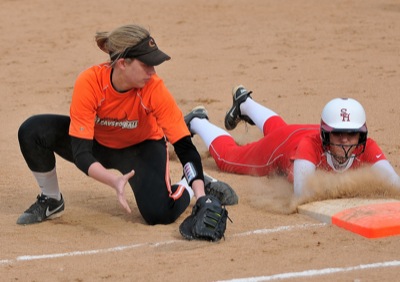 COLDWATER - The St. Henry softball team rallied from two runs down and scored three runs over the final three innings to pull off a 3-2 victory over Coldwater in Midwest Athletic Conference play Thursday at Lady Cavalier Diamond.
Leadoff hitter Sidney Rindler scored the game-winning run in the top of the seventh on a passed ball at home. She finished the game with four walks and two runs. Rindler also pitched a complete-game five hitter with nine strikeouts.
"She did a lot of good things," St. Henry coach Kylie Huelsman said. "She threw more balls than she usually does, but she battled the whole time. She never gave up. She got a little frustrated at times with some of the calls, but she just kept plugging away, and she did a lot of nice things for us."
Coldwater pitcher Emma Homan had a no-hitter going through five innings, but control issues plagued her throughout the game as she finished with 10 walks.
Rindler walked with one out in the fifth, and advanced to third on consecutive passed balls. Ally Mikesell's sacrifice fly gave St. Henry its first run of the game.
Cara Brockman's single broke up Emma Homan's no-hit bid in the sixth and brought home courtesy runner Heather Heitkamp to tie the score at 2.
The Cavaliers scored their runs in the second inning. After Rindler walked the bases loaded, Joelle Hemmelgarn's single scored Rachel Klenke and Ashley Backs.
Coldwater had run-scoring chances in other innings but couldn't capitalize. The Cavaliers left two on in the first and second, stranded the bases loaded in the fourth, and left Ali Dues on third after she led off the fifth inning with a double.
"(Too many) missed opportunities," Coldwater coach Ken Fisher said. "We had the bases loaded and we had a runner on third base with no outs. We tried to bunt a couple times today, and we didn't get the bunt down like we were supposed to. There were some execution things.
"We've been here before when we've had a bad game, and we've came back and played well the next game. I expect nothing other than that from them."
Hemmelgarn led the Cavaliers with two hits. Coldwater finished with five hits for the game.
St. Henry ended with two hits.
"Bats were slow tonight. We struggled," Huelsman said. "We let them score those first two, and it looked kind of bleak at that point. But we kept pushing. I think because our bats were slow, we stepped it up on defense. We had one or two little errors, but we kept their base runners on base. We didn't make bad mistakes. That was definitely a plus."
The Cavaliers fall to 8-4, 0-3 in league play. They will play at Bath in a doubleheader Saturday.
The Redskins improve to 7-6, 3-0 in league play. Up next, St. Henry and Minster will square off Monday in a battle of conference unbeatens.